Terror plot kills local news on the BBC News homepage
Yesterday's immense security operations across the UK to foil a suspected bombing plot were no doubt one of the 'surge events' that I talked about the BBC's homepages having to cope with when I was writing on the reboot:bbc.co.uk competition blog.
It was interesting to see how the BBC's new personalised web 2.0-ish panels on the UK edition homepage degrade - with a message that "Postcode options for local news temporarily removed from this page due to traffic load. Sorry for any inconvenience"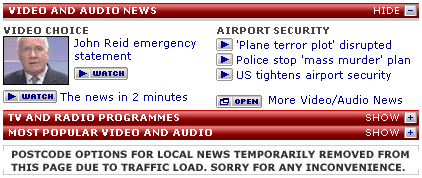 It is nice to see graceful degradation built in to a dynamic BBC homepage application.