I've been surveying the search services offered by British online newspapers, and today I am looking at the search on the site of one of the newspapers that has fiercely stuck to years of broadsheet tradition - The Telegraph.
The Telegraph offers a search in the navigation menu that sits underneath the masthead on their homepage.

The search defaults to site search, but via a radio button mechanism the site also offers a Google branded web search.

The search engine results page is quite bright and clear, with the use of a blue font for the titles of an article, and red for navigational purposes, but the display of the results themselves is quite inconsistent.
All results seem to carry a title and a navigational heading section. All results also seem to have a date-stamp associated with them. However, some articles have an abstract or excerpt, and some don't. Some feature the author's name, and their job title. Some just the author's name. Some don't list that metadata at all. Some have "...read" as a call to action and a link at the end of the abstract, but some don't. It all looks quite messy. You can see all of these variations in just the top 4 results for my test search "blunkett resigns".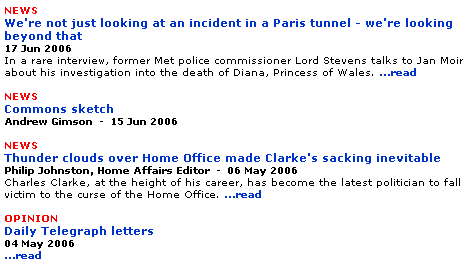 This variation in the way search results were listed meant that some very poor search result pages were delivered. My search for 'england sweden result' got a very sparse response, and the search just seemed to return recent pages with the word 'result' in the title, rather than paying much attention to the 'england sweden' bit of the query.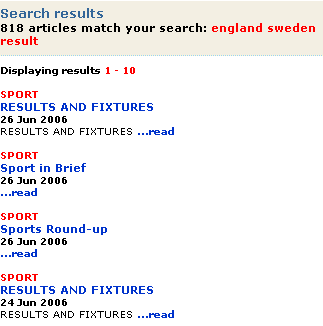 The Telegraph offers a comprehensive advanced search feature. Search can be narrowed down from searching the text of an article, to just searching for articles by a specific author, or just searching through headlines. Drop-down boxes facilitate the fine-tuning of the date range of the search, and the form also offers a generic range of dates to choose from - today, yesterday, past 7 days, past 30 days, and within last year. Results can also be restricted to specific sections of the newspaper, which again I find oddly for a newspaper termed 'channels'.
Tick a box to search a channel, or click a name to go to channel search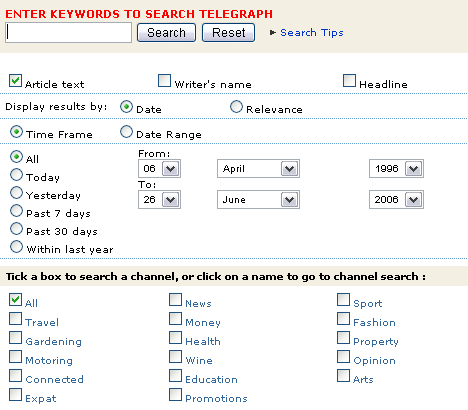 Here is a summary of the features of The Telegraph's search facility.
The Telegraph - feature summary
Results per page
10
Article excerpt or abstract
Sometimes
Date stamp (day/month/year)
Yes
Time stamp (hours/minutes)
No
Article word count
No
Navigational or Section information
Yes
Specifies original publication
No
Specifies original edition
No
Specifies original edition page number
No
Results display colour-coded
No
Search terms highlighted in results
No
Relevancy score (%)
No
Destination URL displayed
No
Sponsored links featured in results
No
Site offers web search
Yes - Google
Default search
Site search
RSS feed of search results
No
Advanced search options
Yes - channel, date range, and text/author/headline selection
Search by date-range
Yes - generic ranges and fine-tuning available from advanced search