Searching The Daily Mirror
Over the course of the last week or so I have been looking at how search works across various different British newspaper websites. Yesterday I looked at The Independent's search systems, and today I am going to return to red-top tabloid territory, with a look at the Daily Mirror.
Mirror.co.uk didn't get into my good books to start with, as an invasive advert for Currys prevented the page from rendering properly in Firefox, which meant that I had to fire up Internet Explorer. I then found that actually the advert broke the page layout in both browsers. Don't people test these things?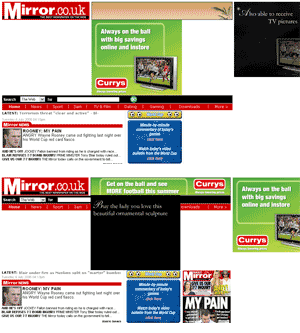 Just to clarify that this isn't me simply moaning because I don't like web adverts - the Currys advert was positioned so that you couldn't use the search facility, as it was over the 'Go' button. The advert also didn't have a close button. I'm sure they are getting great click-through rates from the campaign, but I wonder how much good brand karma they think they are earning?
The Mirror's site defaults to a web search, but a drop-down menu from the front-page allows the user to narrow the focus to just mirror.co.uk. The Mirror's search engine results consist of a title, a date-stamp, and a small abstract.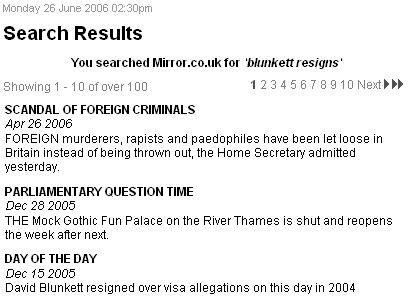 I found the relevancy of the search to be poor, and the results were also cluttered with duplicate entries. For example the top five search results I got for this search for "2002 world cup final" include three results pointing to the same, irrelevant, story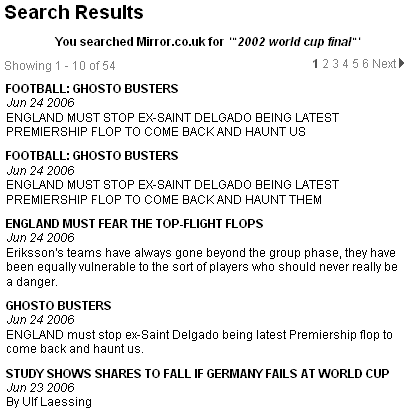 Mirror.co.uk doesn't seem to offer any advanced search features, including the ability to filter results by date, or to order results by relevancy rather than most recent first.
The site though does appear to offer another form of searching from the homepage underneath a graphic of the day's printed front page- "Click to search 100 years of Daily Mirror front pages".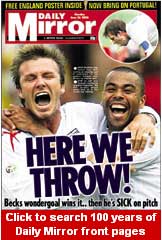 This isn't though so much a serious effort to make the entire front page archive searchable, as an e-commerce venture attempting to sell people facsimiles of the front page from the day they were born / married / divorced / England actually won the World Cup etc. Whilst it isn't a search service per se, if you can ignore the constant inducement to make a purchase, it does make a nice digital archive of the newspaper's history, and an enjoyable browse via the drop-down menus which control which day's newspaper you view.
The Daily Mirror search - feature summary
Results per page
10
Article excerpt or abstract
Yes - but only one line at maximum
Date stamp (day/month/year)
Yes
Time stamp (hours/minutes)
No
Article word count
No
Navigational or Section information
No
Specifies original publication
No
Specifies original edition
No
Specifies original edition page number
No
Results display colour-coded
No
Search terms highlighted in results
No
Relevancy score (%)
No
Destination URL displayed
No
Sponsored links featured in results
Yes - but offset to the right of results
Site offers web search
Yes
Default search
Web search
RSS feed of search results
No
Advanced search options
No
Search by date-range
No