A history of the online World Cup - the BBC's online coverage

Download a print version of this article
Having looked at the official World Cup sites, and finding that the site for USA 94 exists but that the sites for 1998 and 2002 do not, I wondered what had happened with the BBC's coverage of the tournament.
The BBC's 2002 World Cup site is archived, and still available on the bbc.co.uk servers from the URL bbc.co.uk/worldcup2002. In fact it is so properly archived that the toolbar at the top hasn't been updated for a couple of years, and so now the search box on the site takes you through to the BBC's old search designs.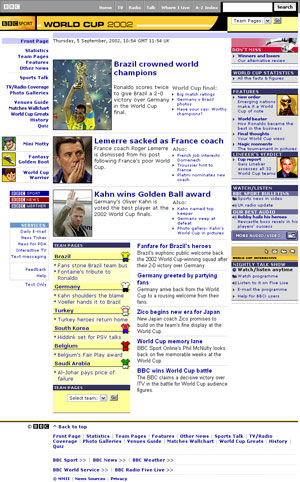 Sadly it seems that the 1998 BBC World Cup site has gone, or at least is not available to the public anymore. It would have been one of, if not the, first major sporting events covered by the BBC online.
At the end of the 1998 tournament, archive.org shows the BBC did make an attempt to archive it, with a front-page higlighting the fact that although the finals were over you could still broswe the site.
Farewell from France

It was one of the greatest sporting events of all time.

The 1998 World Cup produced some of the best football ever seen in the international arena and no shortage of controversy, especially when red cards began to appear like confetti.

New stars emerged, including England's own Michael Own, there was triumph for the host team France and disappointment aplenty - David Beckham will never forget the kick that led to his dismissal and disgrace.

It is all here on the BBC World Cup site. It will no longer be updated but please roam our pages, as millions of people did during the summer of '98, and relive the thrills and spills that made up the Coup de Monde.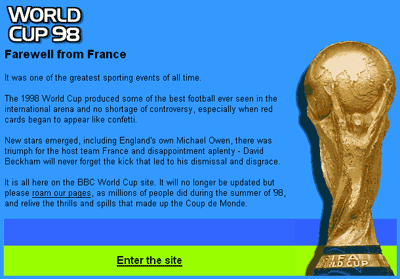 If I recall correctly, the site was still available when I started working at the BBC, at the end of 2000. However, whether for rights reasons, or due to human error, it was badly broken as all of the images had been removed from the server, which seemed a real shame. The bits that are stored on archive.org are also patchy in terms of the assets that are still available, so you can't really get a full picture of what the site looked like.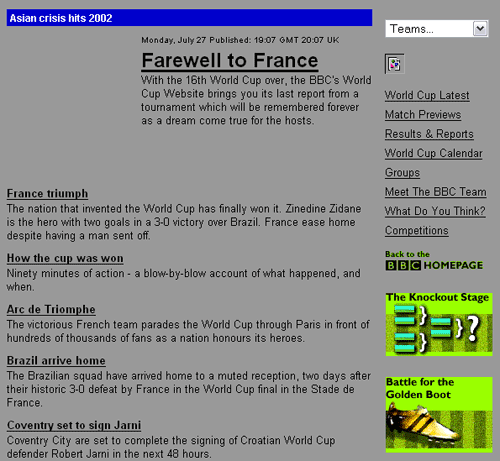 Download a print version of this article