The Best Of The Best Woman's Hour Vote on BBC Radio Four
We've been running another literary vote for Radio 4 over this week, for the Woman's Hour programme. The "Best Of The Best" vote is to determine the best work of Woman's Fiction from the ten Orange prize winners in the decade since the prize was first awarded. The vote closes on Friday, and the results of the public vote will be broadcast on Monday October 3rd. A panel will announce the official winner the same evening.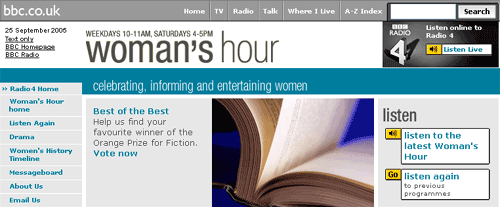 It hasn't generated nearly as much attention as the other recent Radio 4 votes my team have run, The Greatest Painting and Greatest Philosopher votes. I have been impressed though with the way that the web team at Radio 4 have been integrating contributions from the audience into the vote. Each of the ten books has a page dedicated to it, and each of these pages has a set of comments submitted by the audience attached to them. It's a nice way of getting the audience more involved with their choices rather than a simple click'n'go.