Unusual Stuff On The Central Line
I'm glad someone else has noticed this. Going Underground has posted today about some odd graffiti appearing on the door of a Central Line train - "NOISY DOORS ARE UNACCEPTABLE"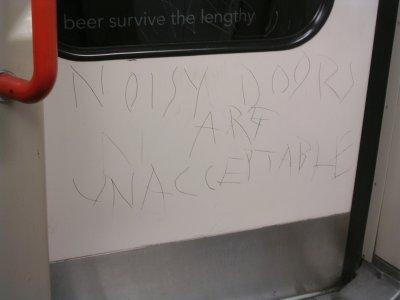 It is one of a series - back in early July I posted to Flickr another example - "DOORS CAUSE DEAFNESS"
I haven't managed to capture it on camera yet, but I believe there is a third one out there.
I did, however, manage to capture on camera - however blurred - the re-emergence of the Eastbound platform of the disused Wood Lane station. For a couple of weeks the building work on the new shopping centre exposed the original platform tiles and roundels as you hurtled between White City and Shepherd's Bush. It is all covered back up now in corrugated metal.