Greatest Painting Vote Update
The short-list component of the Today programme's Greatest Painting in Britain vote is just over a week old now. It has certainly been the most successful vote my team have been involved with - it has already attracted just about twice as many online votes as our previous record, with nearly two weeks left to run.
It has also continued to generate lots of press and lots of blogosphere hot air. Last week The Guardian's G2 devoted the front page and the centre-spread to a countdown of the ten worst artworks on display in Britain.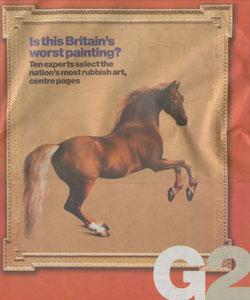 One of the most useful responses has been the Artcyclopedia site, which aside from providing a critique of the final ten chosen, also has links to the most high resolution versions of the paintings on the internet.
The BBC homepage has been continuing to promote the vote, displaying each of the paintings in turn at lunchtime.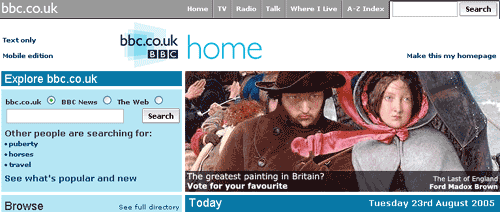 Yesterday it did the trick in the office, when the promo for Jan van Eyck's Arnolfini Portrait sparked a debate about what exactly was reflected in the mirror, leading to frantic Googling and Yahooing to get to the bottom of it - in the end Wikipedia came up trumps.
Still, (via Oddjack) you know something has become a serious contest when you can bet on it:
Just in case you're hard up for betting on things that you have absolutely no clue about, Skybet is offering odds on the greatest painting in Britain. Painter John Constable's "The Hay Wain" is the odds on favorite at 15/8. Other favorites include J.M.W. Turner's "The Fighting Temeraire" at 3/1 and Van Gogh's "Sunflowers"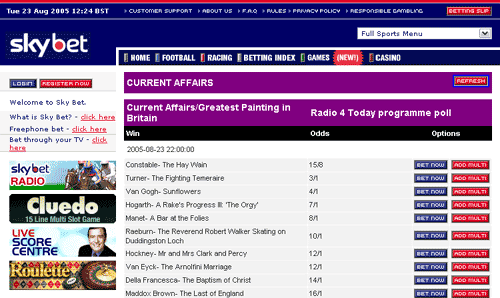 Although I notice today that it no longer appears on Skybet's menu of Current Affairs bets.