You Can Collect More Gamecards Tomorrow

by
Martin Belam
, 2 June 2005
This made me laugh in the pub last night. There is a new promotion on where you get a card and can win DVD players and Personal Stereos etc. On the back of the card comes a responsible drinking message:
Enjoy Yourself And Drink Responsibly
You Can Collect More Gamecards Tomorrow!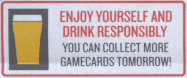 Yep, that's right, the promoters don't want you to get too hammered tonight in your pursuit of their incentives to drink, but they responsibly want to make sure you come back to the pub the next day :-)