Four radios and a wedding
Yesterday, instead of being on the annual F.A. Cup Currybet fancy dress pub-crawl from which this site takes its name, I was at an old school friend's wedding at Lympne Castle in Kent.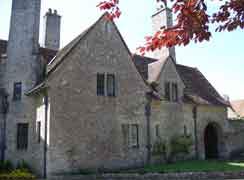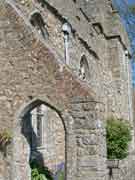 Many of the guests, myself included, also had a keen interest in events in Cardiff - and so once the ceremony finished went scuttling off to find any scraps of news about the match. I had bought my trusty radio, and I wasn't the only one. I was able to use my phone for text updates, and then listened to the last 15 minutes of each half tucked away somewhere out of view with the smokers who had been banished outside.
The 0-0 outcome after 90 minutes sent the match into extra-time, and me into despair, as the extra half-hour clashed with the start of the wedding breakfast. Once inside and settled down at my seat I discovered that my phone could not get reception inside the building - I was cut-off from Cardiff.
A guy on the table next to us was cradling a radio in his lap as he ate his starter. From him I gleaned that the match remained 0-0 with barely three minutes to go. I wired one headphone up through my suit looking like some security goon with an earpiece, to hear the conclusion of the game. As it headed to penalties the tension was too much - I had to duck out of the meal and find a quiet corner to listen to the climax. And as the Five Live commentators shouted:
Patrick Viera scores to win the F.A. Cup for Arsenal
I heard several distinct simultaneous shouts of joy from various locations in the castle, where little pockets of men like myself were similarly wired up or huddled over radios. The fact that there was almost universal support for Arsenal amongst the guests who were interested added an extra zest to the evening's partying :-)
The castle was a really good venue for a wedding, with plenty of rooms that could re-configured for eating, dancing and drinking. There were also spectacular views across the coastline.
My friends also had something I wish I had thought of for my own wedding - in the lull whilst the main room was re-set from wedding breakfast venue to disco, they had a magician walking around doing low-level street magic for the amusement and bemusement of the guests.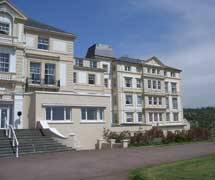 We stayed at The Hythe Imperial, where the rooms were nice, breakfast was good, but it was a little pricey, and the reception service was quite poor, unable to cope at busy times. We had a couple of strolls around Hythe itself, which enjoys a remarkably uncommercialised sea-front, with only a couple of catering places. The breeze coming in off the sea was quite strong, and there was plenty of wind-powered water sports going on. The High Street retained a lot of local charm - we didn't see any of the usual franchises, instead there was a selection of small businesses covering model making, military memorabilia, dolls houses and the like. We also had a quick stroll down the towpath of the Royal Military Canal. All-in-all it looked like Hythe was well worth a day-trip visit - though not on a Sunday when virtually everything was shut.