An Elusive Camel and A WEEE Man
I went into town today to meet my wife for lunch at The Elusive Camel on Tooley Street. It's a very nice pub that we have visited before, but today I found that it has veered very much into gastro-pub territory - we even had waiter service at the table. I thought that the menu was a bit over-fussy, but we opted to share a Meze of continental meats and cheeses and some potato wedges. I'm glad we opted to share because the serving was enormous, with three types of meat, three hunks of cheese, salad, olives, three dips and warm bread. Between the two of us we barely made a dent in it.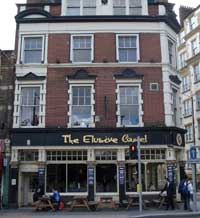 I then headed down Tooley Street to visit On Your Bike, where I picked up a helmet for my cycling adventures, and considered just how unflattering anything aerodynamic was going to be for my body shape.
After that I doubled-back towards Tower Bridge to take in two things - the Earth From The Air exhibition and the WEEE Man.
I've seen Yann Arthus-Bertrand's Earth From The Air before, but it is currently arranged around the GLA building. I'm never sure what makes the most impact, how beautiful our planet can look, or the facts written next to them about our environment.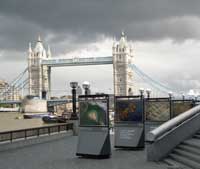 The WEEE Man also makes an environmental point - it is a massive sculpture of a man/robot next to Tower Bridge made out of domestic electrical waste.
The WEEE Man is made from the amount of waste electrical and electronic products that an average UK citizen - YOU - will throw away in YOUR lifetime, if YOU carry on disposing of products at the current rate. Currently most of these products go straight into landfill. From January 2006 manufactures & retailers will be responsible for recycling this waste under new EU legislation called the WEEE (Waste Electrical & Electronic Equipment) Directive.
And another quote from their website:
Europe discards 6.5 million tonnes of household WEEE each year - equivalent in weight to 590 times the weight of the steel in Tower Bridge.