Nominate your Listener's Lord
There is barely an hour and a half to go to get your nomination in for the Today programme's Listener's Lord vote - entries close at 9:30am this morning.

After that the programme will be moving on to the second stage of the process, and you'll be able to vote online between Christmas and New year for who you think out of the shortlist most deserves to be enobled. The results are due to be announced on January 3rd.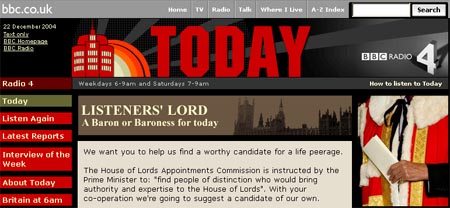 The end of year Today poll always attracts fierce lobbying, so I wouldn't be surprised to see names like Otis Ferry, Tony Martin, or Mr Kilroy-Silk in the frame.