Can we play you every week? England v Wales at Old Trafford
This weekend I went to see England's World Cup Qualification match against Wales at Old Trafford. Being a Leeds United fan I was fearful that stepping into Old Trafford would cause me to spontaneously combust, but as ever by far the worst thing about going to see England in the flesh is other England fans. Once again it was the tedious barrage of songs about the Second World War and not surrendering to the IRA, as if these were the really important battles going on at the moment for England's soul. There was also a pitiful attempt to use the minutes silence for Ken Bigley to barrack the Welsh fans and the more predictable booing of the Welsh anthem.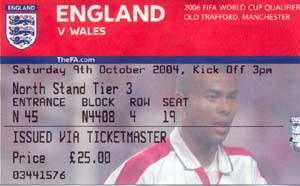 On the way up we used the M6 Toll Road for the first time. It was like being in the middle of some travelogue from the fifties, extolling the virtues of autobahn travel. There we were, pristine tarmac as far as the eye could see, dotted with one or two cars over towards the horizon. I wonder how many people they need to get onto the road for it to start turning a profit?
As for the game itself, it never really caught fire. I had just said to my brother-in-law that we could be in for an uncomfortable last 15 minutes with it only being 1-0, when Beckham scored and it was game over. I was still glad I went though, and hopefully I'll be able to get a ticket for the home game against Northern Ireland as well - presumably the only time when both sets of fans in an international football stadium will be singing "No surrender to the IRA" together.
Getting out of the ground took a long time, and it always surprises me that the entrance to Old Trafford Metrolink station isn't better policed. The bulk of the crowd are heading back into Manchester, but a little bit of local knowledge and past experience meant I was aware that if you push your way through the heaving masses, you'll find virtually nobody is going in the Altrincham direction and you are queuing for no good reason. Credit where credit is due though, the GMPTE staff on hand once you were in the station did an excellent job of marshalling the crowds on the platform and shovelling them onto the trams.
My favourite bit of the game? After 15 minutes England were 1-0 up and comfortably in control of the game. Wales appeared to be offering no threat. So the fans struck up with a chorus of "Are you Scotland in disguise?"