EastEnders vote in The Sun

by
Martin Belam
, 17 September 2004
The last time something I worked on was in the papers it was the Evening Standard, which managed to print the alphabetical press release teaser of the top twenty in the Five Live Sporting Century vote as the definitive countdown of the final results.
Today it was the turn of our EastEnders vote - which made it into The Sun's TV section under the banner headline "Polls Apart". According to the paper:
"EASTENDERS stars are furious over a new TV show in which viewers will vote for their favourite character.

The BBC1 soap's biggest names hate the idea because it will also reveal who is the LEAST liked."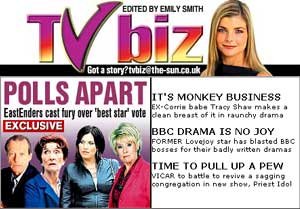 Well I don't know anything about all of that - but for the last month or so we have been running an online vote that allowed the audience to pick their ten favourite characters from a rather long short-list of 100, which is feeding into the production process of the programme.