"Verbs. Zombies. UX." - Mary Hamilton at London IA
We don't really do "headline" slots at London IA, but at January's meet-up, we'd kind of figured that it would be hard for anybody to top the gun-wielding zombie antics of Mary Hamilton.
"Verbs. Zombies. UX." was her tale of running Zombie LARP, which, for the uninitiated, involves paying for the privilege of running around a deserted shopping mall trying to survive a zombie attack. Or as they describe it: "You and your friends, armed with NERF guns, trapped in a zombie-infested building. It's a live-action game of combat, suspense, black comedy, and high-speed occult fear."
It is all quite a long way removed from "Thorin sits down and starts singing about gold."
Verbs
Zombie LARP effectively gives the player very few verbs. In fact, it basically gives them "shoot" as in "shoot the gun at the zombie" and "run".
And "die horribly" Mary added.
One important digital UX parallel to draw here is that a limited set of verbs governs the user having a limited set of actions. When we say to users that they can only "Like" content, then "Like" doesn't carry any nuance. When people use the "favourite" button to mark something as "read later", "this is dreadful", "that's funny" and "I agree", then forcing them to use one verb robs the action of semantic meaning.
But the trade off in giving a choice in some digital environments is tricky. I mean, who thinks that hacking Millie Dowler's phone was "inspiring", "funny", "hot" or "crazy"? The UK Huffington Post gives you the chance.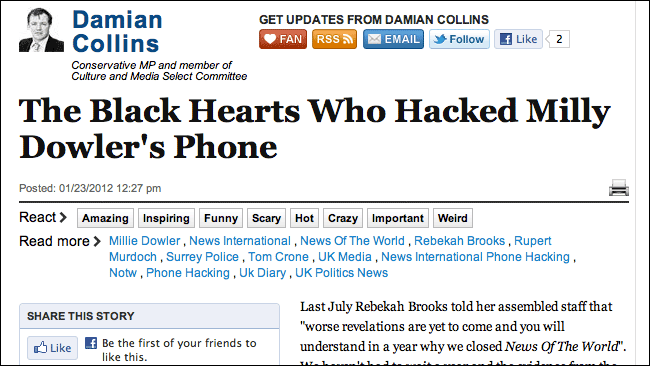 Community
Mary explained how the community has taken the idea and done things that they would never have imagined when setting up the games. They have people turn up dressed as sexy zombie nurses. People argue with zombies that they cannot be harmed because they have absolute faith in science. And they have had one unexpectedly effective invasion of co-ordinated Morris Dancers, whose gentle brand of working as a troupe perplexed the zombies.
Which boils down to people being great - as you'll have seen if you've ever been involved in any online or niche community. It doesn't take long for in-jokes, shorthand references and improvisation to take hold amongst a bunch of people with similar interests who are trying to have fun. Which leads to...
Iteration
Another software development parallel was with iteration. Mary explained that they have people oversee the games as referees which allowed them to iterate. They sometimes have to run around and change the rules during the game. Which is, I think, how I feel when I am running around saying "Yes, I know that is what it said on the wireframes, but what I meant was..."
Joking aside, the point was that there is no point carrying on with a set of rules which are proving themselves not to work. Why wait for the whole game to play out, when you can see an improvement or stop a bad situation developing?
Rule zero
One of the most retweeted things we've had at London IA for ages was a snapshot of the Zombie LARP "Rule zero":
"Don't be a dick. Seriously. Don't"
As Mary said, it makes you examine whether your behaviour is a bit dick-ish. And gives the players explicit permission to say to someone "Sir, you appear to be being a bit of a dick. Please desist forthwith."
Or, as she explained it, made it OK for the zombies to relentlessly pursue someone being a bit of a dick in order to remove them from the game.
In (stick) pictures
Mary's brilliant slides, drawn by Grant Howitt, are available online.
Next...
The next London IA will be Tuesday 7 February 2012. Jonty Sharples will be hosting, as I won't be able to be there, which is somewhat crushing as it looks set to be a great evening if you have an interest in how agile and UX work together.
Jeff Gothelf will be presenting "Lean UX – Getting Out of the Deliverables Business" which will be followed by a Q&A about anything/everything agile with James O'Brien, Johanna Kollmann, Leisa Reichelt and Mark Plant.
The first batch of tickets will be available on Eventbrite at 12pm on Friday 27 January 2012, the second at 12pm on Monday 30 January 2012, with a final chance at 6pm on Wednesday 1 February 2012.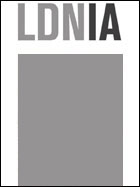 "London IA: Notes from the talks"
Martin Belam, foreword by Ann McMeekin Carrier
London IA is a network of designers, information architects and thinkers. Since 2009 the group has been holding regular meetings featuring talks about UX, or of interest to UXers. This ebook is a compilation of my notes from those evenings, featuring talks by Andy Budd, Giles Colborne, Cennydd Bowles, Claire Rowland, Jason Mesut, Ben Bashford, Chris Heathcote, Dan Lockton, Relly Annett-Baker, Michael Blastland, Margaret Hanley and Richard Rutter amongst others. Topics covered range from ubicomp to psychology, from learning how to sketchnote to how to write a UX book, and how to improve digital design through diverse routes like copy-writing, designing for doubt, learning from music technology or taking care of typography.
"London IA: Notes from the talks" is available for Kindle for £2.47.