"Interaction design for connected things" - Ben Bashford at London IA
Last week we had the latest London IA evening at the Sense Loft, kindly sponsored by Zebra People and CX Partners. Jonty Sharples was giving a talk about arrogance in design, and Ben Bashford was talking about "connected things". Here are my notes from Ben's talk.
Ben Bashford - "Interaction design for connected things"
Ben described how he used to call himself a web designer when it meant design and code. Nowadays he prefers the term interaction designer, because you need to understand not just those things, but also understand your users and the language of the other disciplines.
In his talk he drew the dots between lots of seemingly disparate points, illustrating similarities in systems and system models that you might not generally look at in that way. He thought that the way the ubicomp world will manifest itself is actually pretty similar to the way you make techno in a recording studio i.e. take a mix of analogue and digital machines, wire them up, and get them to focus on making a single product. That product is then either the end in itself, or it can be fed back into the machine for further processing.
Later in the talk he pointed out that the way Spotify works is data from the cloud being channeled to make small things move i.e. the speakers, so that you hear sound. That is, when you think about it, an amazing transition from data on a server somewhere, across networks, through a user interface, and into a tangible physical sensation.
Ben said that loosely speaking, ubicomp is the opposite of virtual reality. The latter predicts a future like Tron, the former promises a world rather more like Weird Science. Even if 3D printers are unlikely in the short term to make a living breathing Kelly LeBrock, they could have a real impact. Ben spoke about the idea that you could 3D print a doll, where the freckles on the face might make a unique QR-code style machine readable pattern, that could then govern the way that software uniquely interacted with it.
When people talk about the "data shadows" that people now leave behind them, Ben Bashford prefers to be more realistic about them, and call them "entries in a database somewhere."
I was reminded of Chris Heathcoate's talk at April's London IA, when he described the incredible customer service he received at a restaurant.
"It is a disconcerting feeling to be given personal treatment when this is just the manifestation of the fact that you are a piece of data passing through a CRM system."
Ben suggested that a lot of the sensors and sensor technology we have now was a by-product of the cold war, but that manufacturing cost is becoming so low that we can anticipate cities being filled with artificial eyes. Very few consumer electronics will be made, he thinks, without GPS capability, a camera, and some kind of network connectivity. He can't wait until people are able to start "hacking cities". He said:
"I'm into global wireless networking. Things that can read &mpp; write to and from the internet, and move about"
He described the example of being able to walk into any bookstore, scan the barcode on a book, use that to identify the title in the Kindle store, and walk out of the shop with the book already downloaded to his device. Book store owners will have to wake up, he said, to the fact that their stock is just a set of physical avatars for products that Amazon can sell cheaper.
Ben cited some of Berg's ideas about a robot-readable world. He suggested that we were very limited by always relying on screens to display information. Displays that could be sensed and interpreted by machines might be more useful. We may, he said, end up having to do UX for machines, and consider the accessibility and interaction requirements they need. By co-incidence, just that day I had written an audience archetype for an API client - perhaps rather unfairly illustrated with Lucy Pepper's "Twatty the Robot".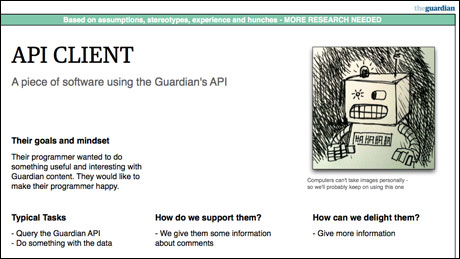 Next...
Later this week I'll have my notes from Jonty Sharples' blistering talk about arrogance in design.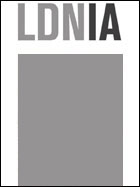 "London IA: Notes from the talks"
Martin Belam, foreword by Ann McMeekin Carrier
London IA is a network of designers, information architects and thinkers. Since 2009 the group has been holding regular meetings featuring talks about UX, or of interest to UXers. This ebook is a compilation of my notes from those evenings, featuring talks by Andy Budd, Giles Colborne, Cennydd Bowles, Claire Rowland, Jason Mesut, Ben Bashford, Chris Heathcote, Dan Lockton, Relly Annett-Baker, Michael Blastland, Margaret Hanley and Richard Rutter amongst others. Topics covered range from ubicomp to psychology, from learning how to sketchnote to how to write a UX book, and how to improve digital design through diverse routes like copy-writing, designing for doubt, learning from music technology or taking care of typography.
"London IA: Notes from the talks" is available for Kindle for £2.47.