Hacking, live blogging, and launching "Guardian beta"
I've just about recovered from last week's Guardian Hack Day, where at one point I found myself desperately trying to live blog the event, finish my own hack, and get Guardian Beta launched.
Live blogging hack day
Jonathan Richards and I took on the duty of live blogging the event, partly as a way of joining in, partly as a way of reminding myself about the strengths and weaknesses of our live blogging tools, and partly as a way of drawing attention to the brilliant work that the tech team does at Guardian Towers.
It was hard, hard work, and I found myself having more and more admiration for our regular live bloggers as the days wore on. During the presentations of the finished hacks Jonathan & I sat side-by-side, trying to take it in turns to blog each presentation, which lasted for about 90 seconds or two minutes each. We managed to spell colleagues' names wrong, get our < and > the wrong way round when mentioning code, and miss out entire hacks altogether. And even with my prodigious blogging output on currybetdotnet, I was aching from typing at the end of the day.
I ended up thinking "Save and launch" is the most fearsome button within our CMS - although it has been pointed out to me that we also have "Remove from database", and that at one point "Launch" was right next to "Preview", with predictably hilarious results.
Guardian Intergalactic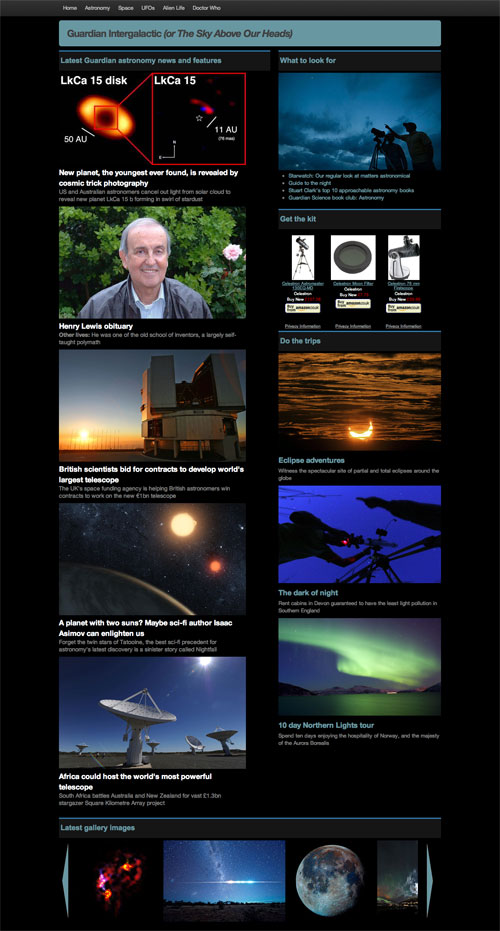 I did my own hack for the day - Guardian Intergalactic. It takes a slice of niche hobby-based content - in this case astronomy - and tries to couple it with high ticket affiliate adverts, and activity-based holiday adverts. I built it with a little bit of Python to query our API and populate a template, and used Twitter's Bootstrap to build and style the page. And I managed to get it to obey "Currybet's law" by shoe-horning Doctor Who into the global navigation.
Guardian beta
I think the longer lasting legacy of this hack day for the Guardian will not be the live blog or the hacks from the day, but the launch of Guardian beta. It is a place where we can gather together some of the hacks and prototypes that we build, and show them to a wider audience. So far we've shown off Guardian travel search, Guardian series reader and the Guardian big screen experience. We've also found space to link to bits'n'bobs like the Liveblogomatic, Long Good Read and 1821 vintage limited edition of the Guardian. And it isn't intended to just be a blog in a silo off to the side of the main site - there are further developments to come.
Our visual design team made me very happy indeed by eschewing Illustrator, Photoshop or InDesign for the branding, and instead, inspired by the best ever infographic published on the Guardian, using MS Paint.

Developers are awesome
Lauren Rabaino wrote a piece for 10,000 Words the other day on "Why Your Newsroom Should Hold a Hackathon — And How To Pull It Off" and it is worth reading. But it doesn't matter whether you are a news business or not, if you are only using your software developers to write dull over-specified code, and not using them to come up with ideas to help you solve your business problems or be creative, you are only using a fraction of their potential.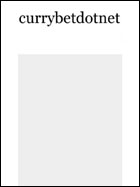 "currybetdotnet: Best of the blog 2011" brings together over 50 of the best posts on this blog from 2011, covering topics such as live blogging, community and social media for news websites, and the future of digital media. It features write-ups of talks by Guardian journalists including Paul Lewis, Matthew Wells, Andrew Sparrow and Chris Elliot, and behind the scenes looks at Guardian products like the Facebook and iPad apps. It also has transcripts of Martin Belam's talks at EuroIA, the UPA conference, Polish IA Summit, Content Strategy Forum 2011, FutureEverything and Hacks/Hackers London.
"currybetdotnet: Best of the blog 2011" for Kindle is £1.92.