"Never miss a moment" with The Sun & Sky Sports
I absolutely adored this nifty bit of layout in The Sun yesterday.
In the top-right hand corner of page 23 was "Teed off by Beeb" - an article about how golf viewers had been complaining to the BBC.
"BBC coverage of the Open has been blasted by fans - for showing too little golf. More than 140 viewers said too much time was spent on studio discussion...Others said live coverage on Saturday only began an hour after the programme started. Fans slammed blurred shots from cameras without rain hoods."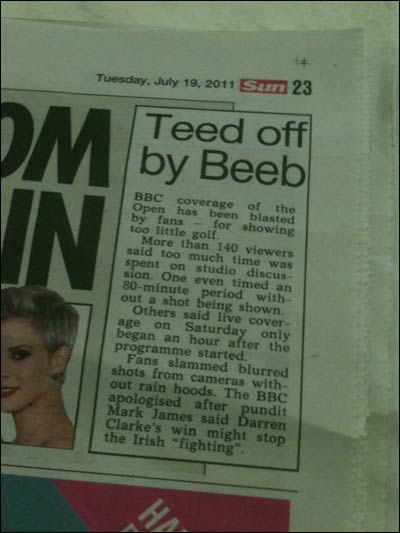 Turn over to page 24 & page 25 and - lo and behold - a two page spread advert for Sky Sports headlined "Never miss a moment"...