Behind the scenes on the CNN studio tour in Atlanta
Whilst I was in Atlanta I took the opportunity to take the Inside CNN Studio Tour, and was interested to see how an American news operation gets presented as a tourist attraction.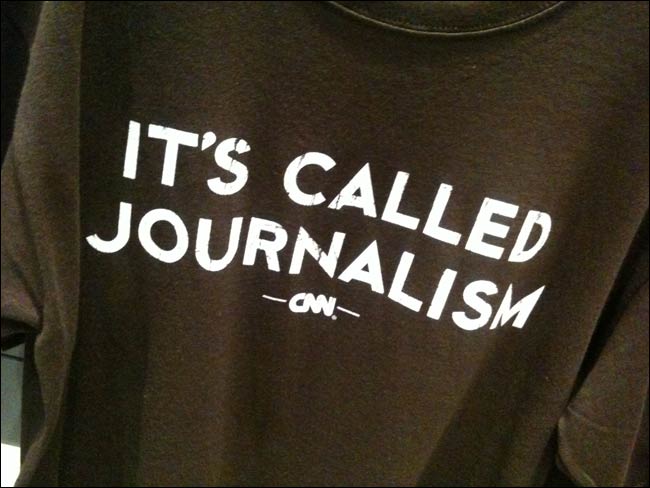 Having spent years at the BBC, been involved in running a studio gallery as part of an induction course, and got lost amongst the studios of Television Centre more times than I care to remember, it all looked rather familiar to be honest. The back corridors and staircases that the tour took you through even had the same beaten-up unglamorous look mixed up with bits of upbeat branding just like TVC.
They did have a very neat demonstration of green-screen technology - giving a couple of kids a green blanket, so they could act out being Harry Potter putting on his invisibility cloak. The tour guide also demoed their touchscreen "magic wall", or "giant iPad" as he dubbed it. The one in use in the studio cost $175,000.
There was quite a cult of personality around the anchors and presenters on the shows. Whilst we were peering into a live studio, our guide got rather excited that Brooke Baldwin had walked behind us and nobody had noticed. And as we were looking down on the newsroom, another guide explained "See, the anchors walk just like us" as T.J. Holmes made his way through the room.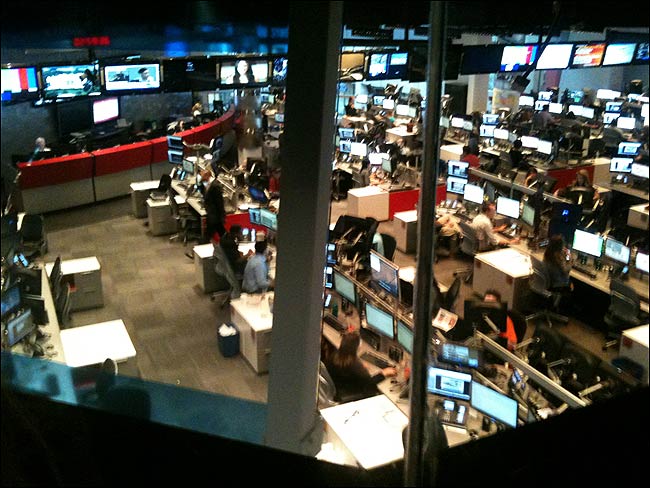 From a technology point of view, I noted that their news room uses Windows XP, and the HLN studio had a machine running with the rather terse message "ON AIR! Do not touch" as the screensaver. I spotted a feed from Channel 4 and ITN in the news room, and they also had an instance of Skype up on one of their big screens.
The end of the tour features a video of several CNN personalities talking about journalism and the station. There was an interesting section on interactivity and the web. Presenters said that social media helps them cover breaking news, and that the ability to quickly get in touch with anybody, anywhere around the globe had changed news reporting forever. Don Lemon said that the speed with which they could understand what the audience were thinking and feeling about a story was also a very powerful tool. The video ended with a call to action for the audience to get involved and file iReports.
CNN moved into this building in 1987, and part of their offices occupy what use to be an amusement park. The entrance to the tour is via an eight-story free-standing escalator, which sees you surreally swallowed by a giant globe.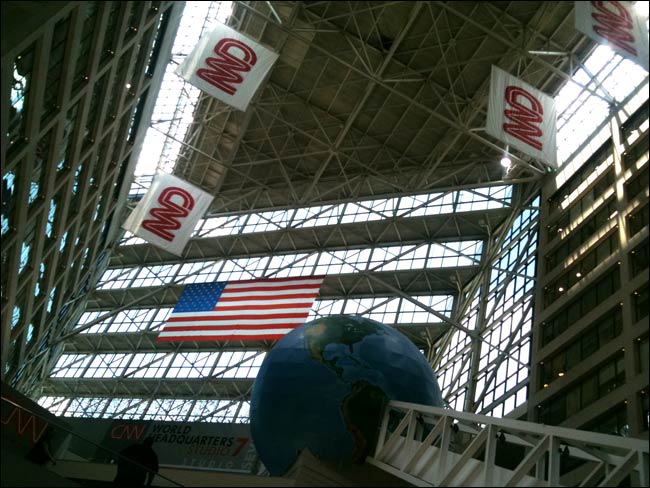 At the start of the tour there is a chance to get a souvenir photograph of you sitting behind a CNN news desk. I must confess I was slightly tempted to get one, and save it up for an April Fool's announcement next year ;-)