Impressions of "The Atavist"
Looking to keep myself entertained on the flight over to Denver for the IA Summit, I thought I'd try out The Atavist, which describes itself as:
"A boutique publishing house producing original nonfiction stories for digital, mobile reading devices. We like to think of Atavist pieces as a new genre of nonfiction, a digital form that lies in the space between long narrative magazine articles and traditional books and e-books. Publishing them digitally and offering them individually--a bit like music singles in iTunes--allows us to present stories longer and in more depth than typical magazines, less expensive and more dynamic than traditional books. Most importantly, it gives us new ways to tell some inventive, captivating, cinematic journalism--and new ways for you to experience it."
The app itself is free, but each individual story is added as an in-app purchase. I tried "Piano demon - the life of Teddy Weatherford" by Brendan I. Koerner.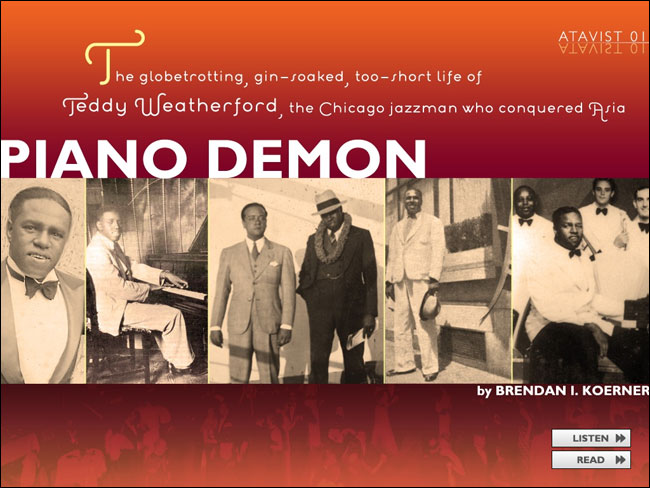 I found the format really engaging, and it was very nice to have a self-contained magazine style feature like this downloaded onto the device to peruse during a flight. It is a bit more than just text-on-a-screen though, and has a soundtrack of 20's piano jazz tinkling away in the background as you read, and plenty of features.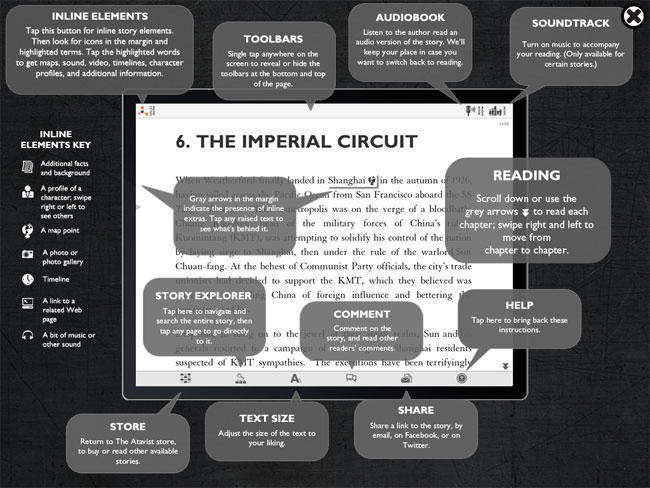 You can opt to have extra references highlighted in the text, which gave access to maps and notes, and I was very impressed with the idea of having clips of the exact bit of music that was being discussed embedded into the text.

It is always great when an interface surprises and delights you with attention to detail, but I absolutely loved the fact that when you opened up the timeline view of Teddy's life, it obscured the future with "spoiler alerts" depending how far you'd read into the piece.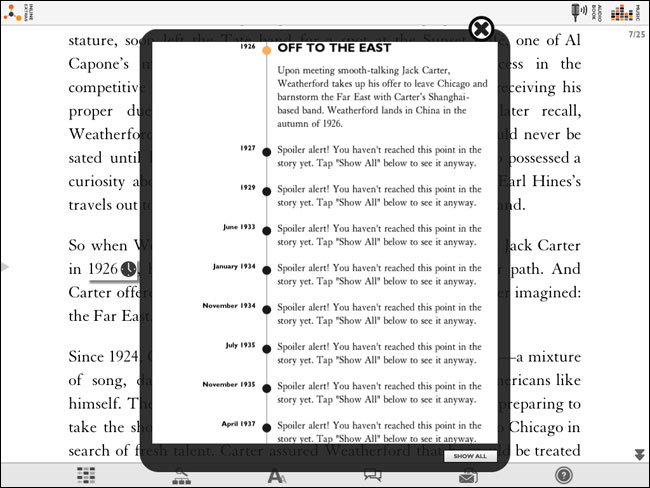 The team behind The Atavist have a beta program open allowing people to test the CMS that produces the stories, and makes them available across multiple formats. I do hope they make it more widely available. It looks like it could be a really great opportunity for small publishers to package content beautifully and make it available on tablet and e-reading platforms.