"Blogging at The Guardian" - Matt Wells
In recent weeks at the Guardian there have been a series of talks looking at digital products and services. I've given one myself, and also blogged about a talk on software engineering and datajournalism by my colleague Daithí Ó Crualaoich, and the visit of Dr Sue Black to talk about Bletchley Park. Two sessions have had a focus on the way that we use blogs on guardian.co.uk, given by blogs editor Matt Wells, and political live blogger Andrew Sparrow.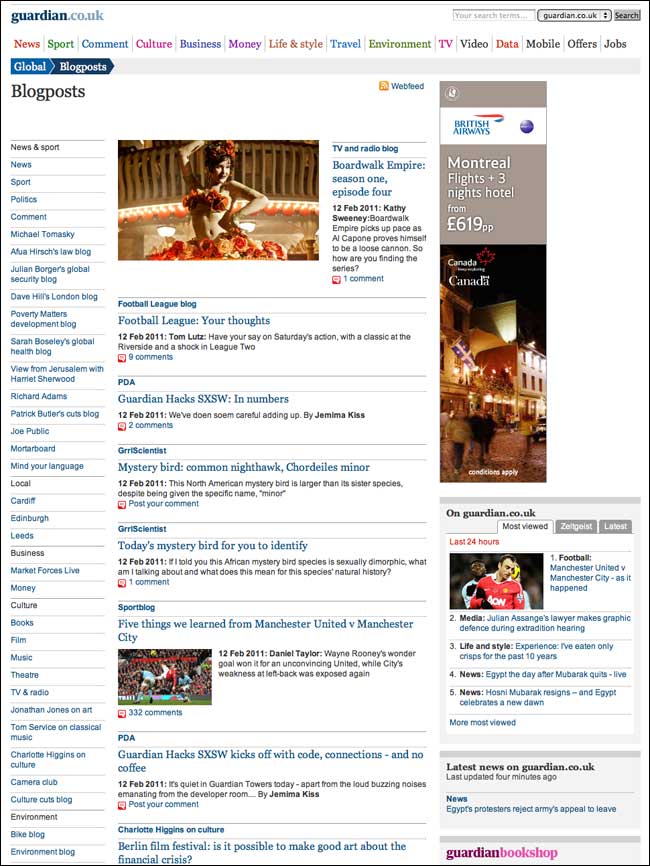 Matt put up on screen the earliest Guardian Unlimited blog, called "the weblog", which doesn't really meet many of the criteria for what we understand a blog to be today. Not least of which is because it doesn't have the ability for users to join in with comments. Maybe that is a reflection on the change of definition - because it most certainly is a "web log". Leo Hickman was posting batches of links to interesting things on the web with short bursts of commentary.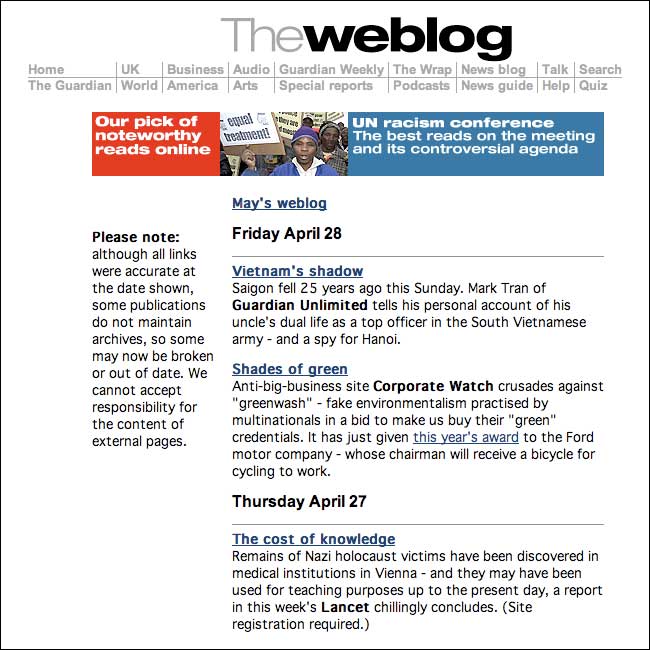 Matt outlined what he thought were the key things about blogging today on a mainstream media site. He thought that one of the most important things was that it should be a combination of what happens "above the line" in the main post, and "below the line" in the comments. Blogging was a more engaged and participatory form of journalism, he said, which accepted that the post wasn't definitive, but open to criticism, improvement, expansion and debate.
Matt was puzzled by people who asked him "why does the Guardian do blogs?". He sees them as an intrinsic part of web publishing, and that you might as well ask "why do you do articles?" or "why do you do pictures?".
Personality was also important. Although traditionally journalists are trained to keep themselves and their opinions out of stories, this doesn't work in a blog format. He had a recorded interview with our Jerusalem correspondent Harriet Sherwood, who said she had quickly learned that you can't just put a conventional news story on her blog, so the posts have to be quirky or observational, or something she has read and feels is worth passing on. It was also great to hear her say she felt disappointed if she posted something and it didn't generate many comments - spoken like a true blogger. You can listen to Harriet's interview on Audioboo.
One aspect that Matt talked about was the role of community co-ordinators in assisting with live blogging. In a fast moving story like the overthrow of the established order in Egypt, the live blogger is unlikely to have time to delve into the comments below. A community co-ordinator type role can assist them by getting involved in the threads, and use their editorial skills to sift, curate and corroborate information being supplied by the readers.
It is something I am really pleased to be seeing at the Guardian. During last year's general election campaign I sat on the politics desk for a while, observing how the live blogging was being done. This was one of the closest things I'd got to a "time and motion" study to see what could be improved with our CMS tools.
I was struck by two things.
Firstly, I was in utter awe of the speed with which Andrew Sparrow was filing copy and it was being subbed and turned around onto the live site.
Secondly, I was conscious that if I was setting up a digital-only live blogging news service, I'd probably opt for a slightly different workflow, which relied more on a "co-pilot" model than the traditional "reporter/sub-editor" relationship. The presence of community co-ordinators working on those news live blogs gets us closer to the latter.
Next...
Having mentioned our prolific and peerless political live blogger Andrew Sparrow in that last section, tomorrow I'll have my notes from a session where he talked about how he goes about his craft.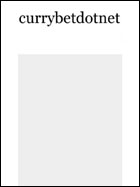 "currybetdotnet: Best of the blog 2011" brings together over 50 of the best posts on this blog from 2011, covering topics such as live blogging, community and social media for news websites, and the future of digital media. It features write-ups of talks by Guardian journalists including Paul Lewis, Matthew Wells, Andrew Sparrow and Chris Elliot, and behind the scenes looks at Guardian products like the Facebook and iPad apps. It also has transcripts of Martin Belam's talks at EuroIA, the UPA conference, Polish IA Summit, Content Strategy Forum 2011, FutureEverything and Hacks/Hackers London.
"currybetdotnet: Best of the blog 2011" for Kindle is £1.92.