Katherine Green: "Wood Street, E17" and "1948 Olympians"
I blogged yesterday about going to a talk by photographer Katherine Green about her project "Going to the dogs", documenting the closure of Walthamstow's greyhound racing stadium. She also gave a retrospective overview of some of her previous projects, two of which have tackled subjects of great interest to me.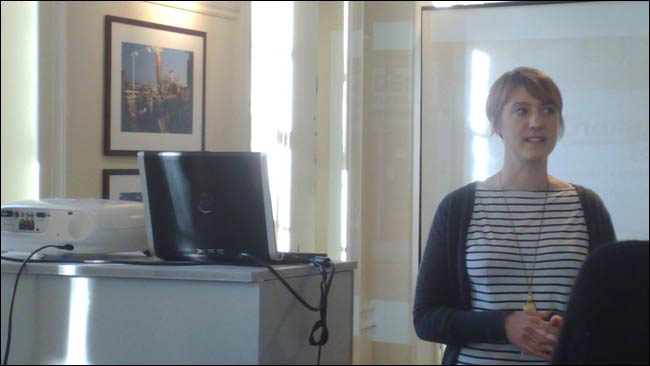 Wood Street
Before the Walthamstow Stadium exhibition, I had previously heard of Katherine Green's work because of a project she did based on Wood Street, where I used to live. She had spent some time photographing the shops and business owners on the street. It used to be a major local shopping thoroughfare - with the glamour of a film studio on it no less - but which in recent years it has fallen into neglect.
Many of the businesses on the street have been established for a long time, but have struggled with the building of big supermarkets nearby and the advent of online shopping. Typical was the story of "Ron's Drug Store". They've been working a shop on Wood Street since 1944, but a couple of years ago a brand new modern pharmacy opened up literally next door, and halved their trade overnight.
The majority of Katherine's work is grounded in the East End. She said during the talk that she was interested in what made an area unique and distinctive, and spoke about how she was interested in things that fell outside 'the mainstream'. She felt that Wood Street had retained a semblance of the sense of community that used to exist throughout the East End of London. She explained how on the morning she had been taking pictures in one of the hairdressers, a elderly regular hadn't turned up for their appointment. Someone was despatched to check on them and find out if they were OK.
It was distinctly odd for me to see Martin the butcher and Steve the barber - who still cuts my hair - up on a big projector screen, given that I used to live in an upstairs flat situated between their shops!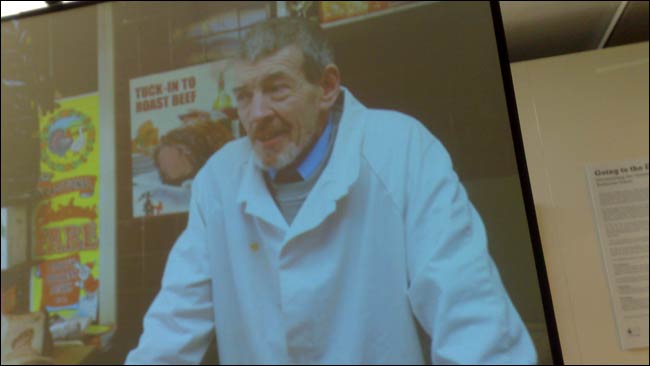 1948 Olympians
I've got a keen interest in the history of the Olympic Games, as evidence by my 'Brief history of Olympic dissent' series and by recently taking part in Simon Pope's "Memory Marathon". Another Katherine Green project has been photographing British Olympians from 1948, the last time that London hosted the games.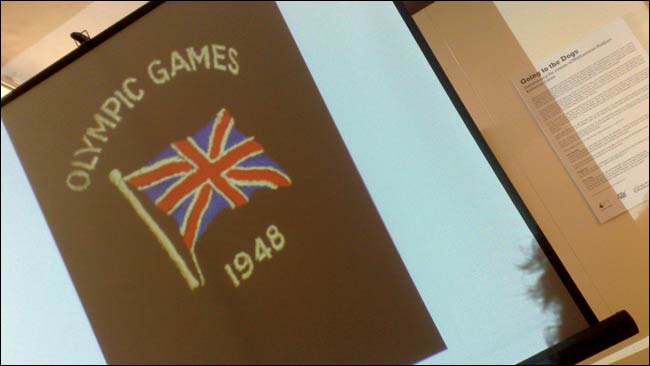 The contrast with today's athletes is palpable, and Katharine talked about these people having to sew their own kits for what were known as the 'austerity' games. She joked that as a reflex the boxers automatically raised their fists to pose when they were about to be photographed, and explained that blah still swims competitively in the over-90s category.
In July last year, The Guardian did a feature on the project, with transcripts of interviews with some of the Olympians.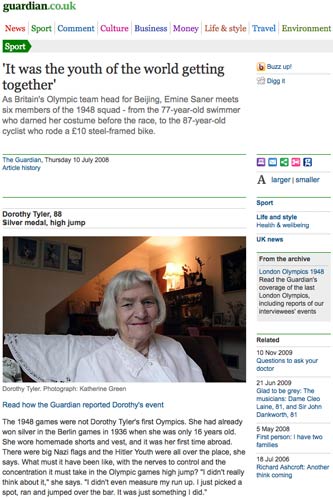 You can see some of the pictures from both the Olympic and Wood Street projects on Katherine's web site.
Next...
Katherine Green currently has photographs on show in another exhibition in Bethnal Green. Entitled "Meet", it documents the hobbies, leisure time and social activities of residents in one London borough and features 14 photographers working collaboratively.