So was it the Express or The Sun that 'saved' the England game?

I suggested earlier in the week that as part of the marketing operation, the UK's national newspapers might be giving digital sports rights agency Perform an easy ride over their decision to make England's World Cup game with Ukraine available only via pay-per-view Internet streaming. I didn't realise that some of them would be promoting their non-exclusive involvement in an affiliate selling scheme as if it was God's own gift to the England football fan. I'm sure Geoff Marsh loved writing:
"FABIO CAPELLO'S England may have been snubbed by TV broadcasters, but the Daily Express has stepped in to help save this week's World Cup qualifier in Ukraine for armchair fans. For the first time ever an England World Cup qualifier is not being shown on TV in this country. But our loyal readers CAN watch the game from just £4.99"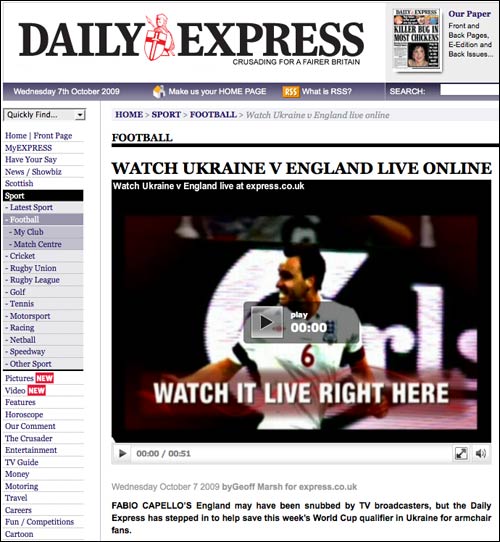 There was only one small glitch with this narrative of the crusading Daily Express coming to the rescue of a grateful nation - the Google advert at the foot of the page boasting "SunSport to the rescue"!