How major publishers are using social media to drive traffic - Part 3
This is the third of a series of posts based on a talk I gave during May 2009 at WebCertain's "International Social Media Summit" in London. You can find the first part here, and view the original presentation slides on SlideShare.

The social bookmarking feedback loop
The ratings you get on social bookmarking sites are valuable feedback, and some major news publishers utilise them to add value to their site. The Telegraph, for example, has a 'Most Dugg' widget as part of their site furniture, which highlights to their on-site audience what has been popular off-site.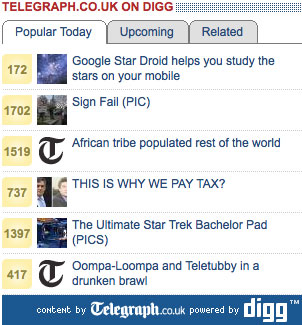 The BBC this year changed their 'Most emailed' list of top stories - the one that nearly always seems to include that man marrying the goat in the Sudan - to 'Most shared'.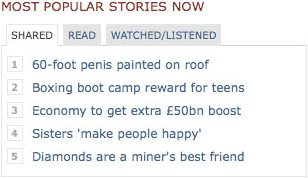 At the time on the BBC Editors blog, Steve Hermann explained the change as an attempt to get a 'broader range of input to these recommendations.'
Social bookmarking sites can be big traffic drivers. The Telegraph, according to figures obtained by Malcolm Coles in a recent FUMSI article, derive 8% of their traffic from social media sites. Achieving front-page status on Digg or Reddit can drive a significant number of users to you, who may not have otherwise visited your site.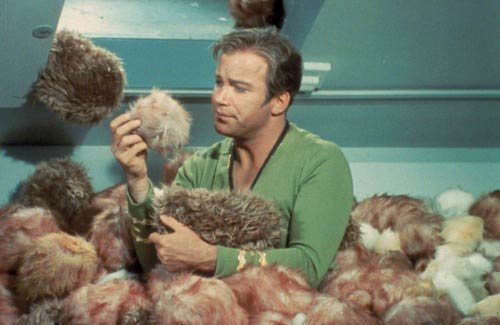 Of course, once you have these deluge of social media traffic, isn't always immediately clear what you can do with it. There is a risk that the editorial line gets distorted in the pursuit of more attention from the predominantly young white geeky American male demographic that holds sway on Digg.
Indeed, it seems that there is a whole culture developing around carefully crafting headlines purely to appeal to the Digg or Fark mentality. This isn't an entirely new art. Crafting the headline on a front page that would physically sell a paper like "Freddy Starr ate my Hamster" is a journalism tradition. Now this principle has been extended to the individual story level. I'm thinking here of stories like the BBC's Teenager finds bat asleep in bra or The Telegraph's Crocodile stalks nudist beach in Australia.
Some types of content, and publication, will naturally appeal to people who use different services. Malcolm Coles carried out a study earlier this year showing that:
I carried out my own study in July and August of 2008 to find out which news sources were making the front pages of Delicious, Digg, Fark, Mixx, Newsvine, Reddit, StumbleUpon and Yahoo! Buzz. It seemed that the New York Times was the paper of record as far as Internet social bookmarkers were concerned.
| Pos | News source | Front pages |
| --- | --- | --- |
| 1. | New York Times | 523 |
| 2. | CNN | 377 |
| 3. | BBC | 341 |
| 4. | The Telegraph | 243 |
| 5. | The Guardian | 224 |
| 6. | Washington Post | 218 |
| 7. | USA Today | 184 |
| 8. | Daily Mail | 165 |
| 9. | Wall Street Journals | 161 |
| 10. | Los Angeles Times | 158 |
Of course, where there is traffic, there is cash.
And where there is cash, there is an incentive to cheat and hack the the system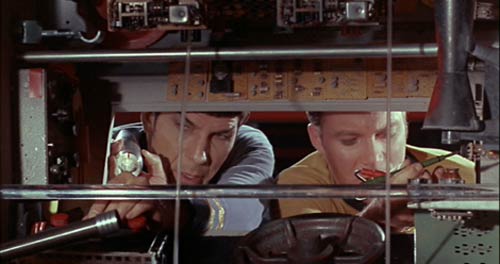 It is possible to use under-hand tactics like buying votes or recommendations from accounts that have been painstakingly built up to look genuine. It can be short-cut to success, but just like with 'black hat' SEO choices, if you are caught, any penalty may outweigh the short-term gain.
Next week, in the fourth part of this series, I'll be turning my attention to how some major news publishers are using Twitter to communicate with their audience.