'Local Newspaper Week' - Being local...
This week has been, according to the Newspaper Society, 'Local Newspaper Week'.

It seemed like an opportune moment to blog about some of the things I've noticed about my local newspapers since I moved to Muswell Hill. I've been collecting clippings and pictures of the Muswell Hill Journal and Ham & High Broadway since October, and so far this week I've blogged about advertising, some of the issues around local democracy and the potential impact of the local council's own magazine.
It strikes me that under the triple pressures of a decline in advertising revenue, the rise of news consumption on the web, and competing for audience and advertising with the local council, our regional press need to re-evaluate the business models of all of their operations. A couple of things have stood out for me as things that maybe are no longer fully optimised for current market conditions.
Christmas on TV
Can there have been a single person in the UK who did not know that on Christmas Day, David Tennant was going to be battling the Cybermen in Victorian England?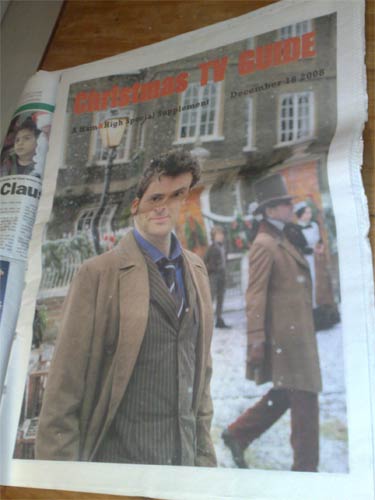 I couldn't help but wonder if the Ham & High's Christmas TV guide pull-out was there because they have always done them, or because it was genuinely guaranteed to make money or retain circulation.
There is a fine calculation to be made here.
Is the cost of producing the special Xmas TV Guide worth the value of the additional advertising revenue it generates? To what extent would the lack of a seasonal TV guide in the Christmas issue of the Ham & High Broadway cost the paper sales or customer loyalty.
Obviously, with the paper being part of a series belonging to a bigger news organisation, production costs can be split across a range of titles, but there was certainly nothing 'local' about the TV guide, and it gave me nothing that I couldn't already get for free online, or with my national newspaper.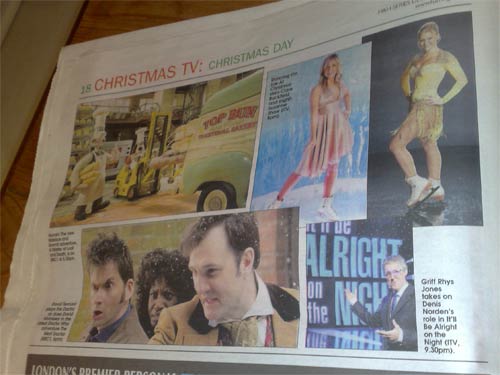 National sports coverage
Another thing that baffles me about our local paper is the amount of coverage devoted to national sport. Usually three or four pages are dedicated each week to covering Tottenham Hotspur.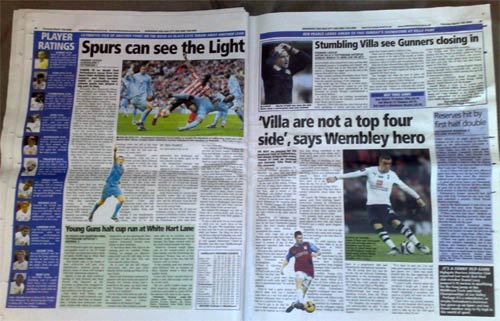 There are usually match reports, interviews with players, and a guide to upcoming fixtures.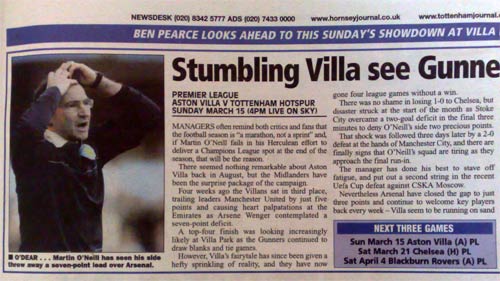 However, by virtue of the fact that the paper is published on a Thursday, often match reports can be up to five days old. The national press and national TV stations are saturated with coverage of the Premiership - why do I need to read an old match report?
What frustrates me is that there is then usually only half of a page for the smaller teams much further down the football pyramid. If I want to take an interest in Haringey Borough, or go and see Wingate & Finchley there is no list of upcoming fixtures, no indication of where they actually play, and no league table to check how they are doing.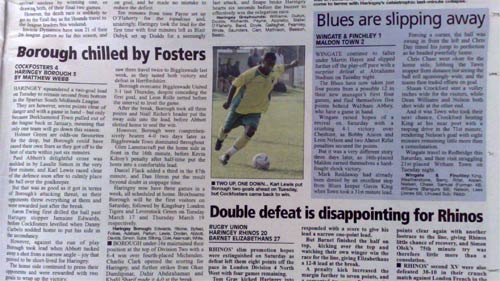 Again I'm interested in the business model here. Of course coverage of Spurs brings in some readers and some advertising. However, I am over-supplied with news about Tottenham, but coverage of Wingate & Finchley should be, to me, the defining USP of the sports section in my local paper.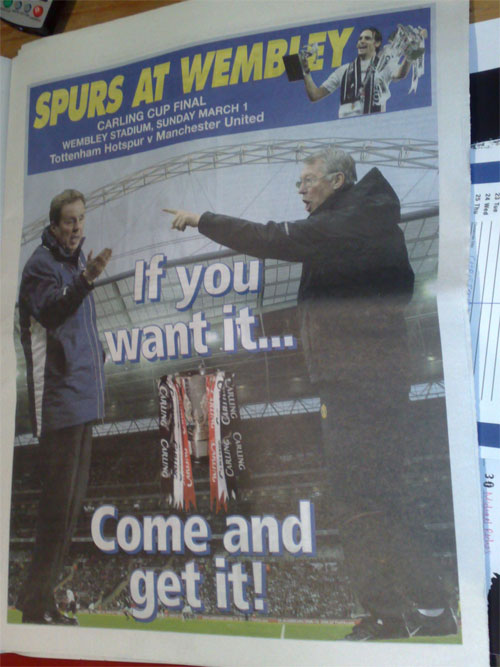 Next...
I'm going to stretch the concept of 'Local Newspaper Week' by continuing this series with some further blog posts over the next couple of weeks. I've also been picking up regional newspapers on recent trips to Brighton and Cambridge, and I'll be writing about some of the things I noticed in them.