Measuring London newspaper success with social media
On Monday I published an e-book entitled 'Measuring UK newspaper success with social media'. This featured some of the results of a study which captured 3,500+ popular URLs from 50+ media websites across 8 social media and link sharing services.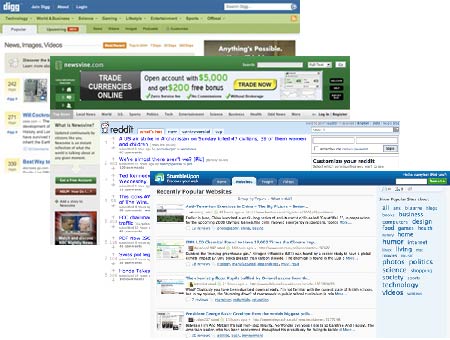 As well as the e-book, I've been blogging about the results of my survey, and yesterday I looked at some of the content from the Metro free newspaper that was successful on social media sites. Today I wanted to look at some other 'local' London newspaper content that had reached a global audience via social bookmarking.

This is London
During the course of the study I noticed 8 URLs from Associated Northcliffe Digital property This Is London become popular on 5 social media services. The front pages of Delicious, Digg, Fark, Newsvine and Reddit all displayed stories from the site, which bills itself as an entertainment guide for London from the people behind the Evening Standard and London Lite.

Two of the stories were popular on more than one service. Both Digg and Reddit user's picked up on an article claiming that a woman had diagnosed her daughter's illness using the Internet, when doctors had failed to determine that she had Lyme Disease.

Sadly for those hoping that this might signal the rise of the Internet-inspired 'Citizen Doctor', the story actually states that although the Internet had alerted the mum to the existence of the disease:
"I took Danielle to see a professor in Newcastle privately and he diagnosed her with Lyme Disease and three core infections." [My emphasis]
The other story popular on two sites was an essay by Andrew Malone about the influence of China in Africa. It made a mark on Delicious and Reddit. I'll be looking at this article more closely on Friday, when I examine the impact of duplicate content on social media success.
At the foot of stories on This Is London, there are social bookmarking links to four services: Delicious, Digg, Facebook and Reddit.

This is Local London
This Is London is not to be confused with This Is Local London, an aggregation site for 40 local newspapers into 'one online voice'.

During my study I was looking for URLs that matched the pattern 'thisis', so I spotted the one URL from London's local papers that gained popularity on a social media service - Fark.
Sadly, this was an almost text-book case of how not to take advantage of social media success.
SEO practitioners and commercial webmasters are always anxious for their content to become popular on link sharing sites for a couple of reasons. One, of course, is the initial flood of traffic that popularity on a site like Digg and StumbleUpon can bring. The long term value, though, comes from gaining backlinks, which boost the authority of a page in the eyes of search engines.
This Is Local London seem to have thrown all of the link value from exposure on social media away. Visiting the URL that Fark linked to now gives you the message:
"PAGE NOT FOUND
We've moved some of our pages around - please use the Site Map to find the page you're looking for"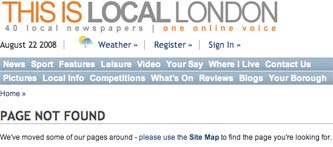 The site map in question is a spectacularly long and unhelpful list that looks like it has been generated by machine CMS, rather than cultivated by an information architect, and so I am none the wiser as to what the story was about.

London newspaper content performance
This table illustrates where This Is London and This Is Local London URLs appeared on social media websites between July 15th and August 14th 2008. The presence of an icon indicates that the web site had a social bookmarking link to that service.
| Service | This Is London | This Is Local London |
| --- | --- | --- |
| Delicious | 1 | 0 |
| Digg | 1 | 0 |
| Fark | 2 | 1 |
| Newsvine | 1 | 0 |
| Reddit | 3 | 0 |
| Total | 8 | 1 |
Next...
London wasn't the only local press to have a global impact via link sharing - tomorrow I want to examine how Fark put Plymouth on the social media map.