FIFA 2010 World Cup qualifying website review - Andorra

England begin their attempt to qualify for the 2010 World Cup in South Africa today, with an away game against Andorra, held at the Olympic Stadium in Barcelona. Cue the "there are no easy matches in international football" cliche.

England will be trying to qualify from Group 6 which, alongside Andorra, features Croatia, Ukraine, Belarus and Kazakhstan. It has all the hallmarks of a group which England will struggle in, and which they will be berated for by a press pack showing willful ignorance of the strength of football and national pride in places like the Ukraine and Belarus.
There is one astonishing fact about Group 6 which shows how much international football has changed in the last 20 years. The last time England did remotely well enough in a World Cup not to come home to tabloid cat-calls was the semi-final defeat on penalties in Italia '90. At that time, not a single one of their opponents in Qualifying Group 6 was affiliated to FIFA. Andorra existed as a state (as it has since 1278), and the Croatian FA was founded in 1912, but in 1990 England were the only one of these 6 nations playing international football.
During the course of this qualifying campaign I'm going to be reviewing the websites of England's opponents, starting with Andorra.
Federació Andorrana de Futbol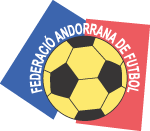 Andorra are one of those nations often used to illustrate arguments that the smaller European nations should have to pre-qualify for tournaments like the World Cup, in much the same way that CONCACAF insist that smaller islands like the Cayman Islands or Anguilla play a two-legged match to determine whether they reach the second round group stages.
To date, in 3 attempts to qualify for a Euro championship, and two World Cup qualifying competitions, Andorra have won just one match, and scored only 15 goals. When they played at Old Trafford in September 2006, the crowd of 56,290 was only 15,000 shy of the entire population of Andorra. Still, winning isn't everything - Andorran's enjoy the world's longest life expectancy.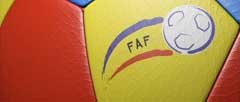 The Andorran FA website is available in two languages - Catalan and English, although I have to confess that switching to the English version didn't seem to make much impact on the language used on the page.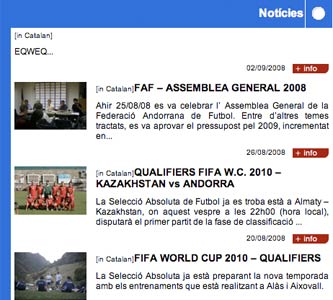 In the English version, it also seemed that the news section was empty.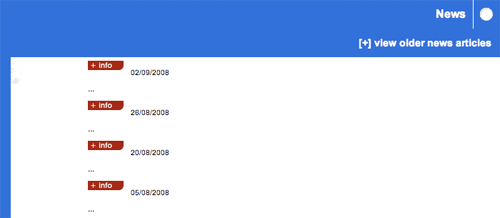 There is coverage of the competitions organised by the Andorran FA, which includes the eight team part-time Primera Divisió. In this competition all matches are played in the national stadium Estadi Comunal de Aixovall. The winners of the competition enter the earliest stages of the Champions League - in this year's tournament FC Santa Coloma fell at the first qualifying hurdle in July against FBK Kaunas from Lithuania.

The website features details on the current senior national squad, as well as on Andorra's U21 and Futsal teams.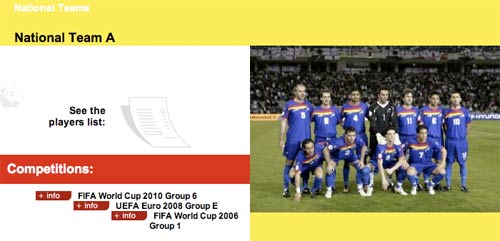 The national team already face an uphill struggle to qualify for South Africa, since they start the match against England already bottom of Group 6. They lost the only European region World Cup qualifier played so far to Kazakhstan in August.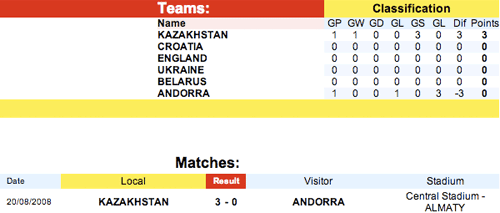 Statistics
The site includes detailed records of the 2006 World Cup and 2008 European Championship qualifying campaigns. Andorra's games are marked with a small 'plus' icon, which seems to promise more details about an individual game.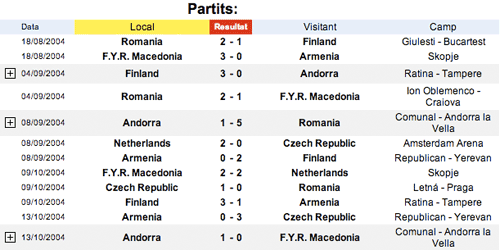 However, the pop-ups that open don't seem to supply the information that is promised.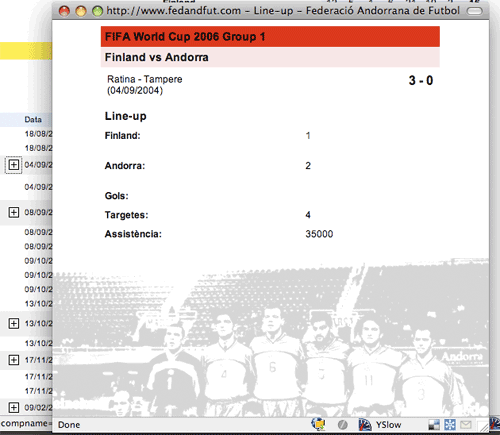 Web 2.0 features
I didn't spot any sort of Web 2.0 features on the site. There was no RSS feed for the news, and I didn't see any social bookmarking icons. In fact, with no message boards or votes, there didn't seem to be any interactive features at all.
Search
The Andorra FA site did not appear to have a site search engine, but maybe it is not yet big enough to require one. Google estimates it only has 272 pages from the site in its index.
Next...
On Wednesday England's campaign continues with a much tougher fixture against their nemesis from the Euro2008 qualifiers, Croatia. I recently reviewed the Croatian website for the Euro2008 finals, so in the next part of this series I will be looking at the website of the English FA.