A lifetime of lost playlists: Part 6 - If you buy this record (your life will be better)
Starting off with the times when I simply yelled at my mum to put my favourite record on, I've been writing about how the ways that I have organised my music playlists have changed over the last 30-odd years. In the main this has been due just as much to the way musical formats themselves have changed, as to any differences in my musical taste, listening habits and lifestyle.
Buying my own records regularly
In the last part of this series I mentioned taping a lot of records that belonged to my uncle in the early eighties. One day in 1983 it suddenly occurred to me that there was no need to wait until the next time I visited him to get some new tunes - I had enough pocket money now that I could start to regularly buy 12" singles for myself.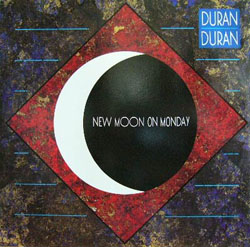 The first 12" single I bought was 'New Moon On Monday' by Duran Duran. A couple of weeks later I bought another one, this time 'People Are People' by Depeche Mode. I remember that I asked to hear a bit of it, as I wanted to know what the 12" version was like, and the assistant played a snippet of the single at 33rpm instead of 45rpm. I thought I'd bought the regular release, but on the way home I realised it was a numbered limited edition, and I was very excited by that prospect.
It turned out to be a very significant purchase, because without intending to, I had bought a remix of the track by ON-U Sound producer Adrian Sherwood. The way that he turned the track into a 10 minute industrial dub work-out ended up being a substantial influence on my musical taste.
By the mid-80s my uncle and I had an unofficial arrangement that he would buy the 12" singles of bands that we both liked, but if a second subsequent remix was issued, I would buy that, and then we could swap them to tape them. That meant I started a real habit of seeking out alternative mixes and versions, and since we both liked the artists on ZTT, there was no shortage of variations on which I could spend my money.
So there was a time when, next to the record deck in my bedroom, I had a selection of no more than about 30 records, mostly 12" singles, which I played through over and over again whilst doing my homework. Now my iPod has literally thousands of tunes I can flick through and listen to.
Depeche Mode's 'Master and Servant' single was the first record I ever bought on the day of release without even having heard the track at all, on the strength that I just liked and collected the artist. Whilst nowadays it is commonplace to speculatively download something on a peer-to-peer network on the basis that you might like it, back then this was a significantly more risky £2.99 investment on my behalf.
It was one that paid off for me this time. The nine minute plus 'Slavery Whip Mix' of the A-side and the eight minute plus '(Set Me Free) Remotivate Me (Release Mix)' were both regulars on my teenage turntable. They both currently languish in my iTunes library with a play count of zero - I don't really have the time or patience for nine minute remixes anymore.
Exploring the back catalogue of artists wasn't as easy as flicking through the search results on Amazon or iTunes. It meant physically travelling to a bigger record store than the ones in Walthamstow, which in London pretty much meant a trip to Oxford Street. As my friends and I gradually discovered bands and their musical heritage, we would take it in turns to get albums, and then swap them around for home taping purposes. You'll remember home taping...it killed music apparently.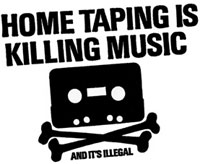 The Cure was one band that already had a large body of work recorded before I got into them, and when it was my turn to buy a back catalogue album I chose Pornography. We had a great laugh at school telling people "Martin's going into the West End to buy 'Pornography' tonight" without specifying that it was a rather bleak vinyl album from the miserable goths, rather than something a bit more fruity.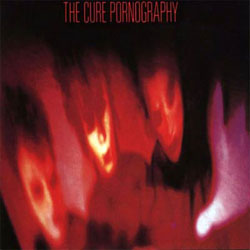 I also bunked off school one morning in 1986 to be at HMV on Oxford Street for opening time, so I could secure one of 500 signed copies of Depeche Mode's "Black Celebration" album. I eventually sold this copy on eBay a couple of years back, when I was selling my rarities to help finance my travels abroad.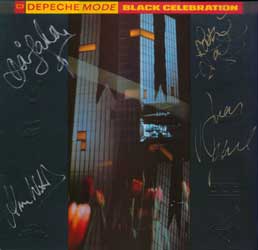 Making playlists with my own vinyl
By now I was onto my second hand-me-down record deck from my dad, and so the auto-changer of my childhood was no longer the method of making playlists.
I often used to listen to music on headphones in bed, and when my main listening format was vinyl I had a specific method of cueing up the tracks to be listened to in my 'playlist'. Before I went to bed I would sort out the various records that I wanted to play songs from, and then stack them in the right order in front of the shelving unit where my record player was housed. Then, when each track finished, I would physically get out of my bed and swap to the next record.
I was sufficiently nerdy that I always placed the vinyl back inside the sleeve with the A-side facing the front cover, which meant I could stack the records beforehand so that when I removed the record from the sleeve, I knew which side needed to be played - even in the dark.
From a cumulative 'most listened to' playlist point of view, during this period tracks by the likes of Bauhaus, Japan, Joy Division, The Cure and Depeche Mode would be making a strong showing, alongside more obscure artists like Slab!, Tot, Dub Sex, Clan of Xymox and A R Kane.

To get some records by several of the latter onto my iPod has involved converting my old vinyl copies to a digital format - I mean, have you ever tried to find any torrents by the likes of The Wolfgang Press? This involved a level of effort much higher than that suggested by the unplayed and unrated status a lot of them subsequently have in my iTunes library.
And there are some things that the digital reproduction of music simply cannot replicate. When I was avidly collecting the early singles on the Mute label, perhaps the oddest was the joint single by Non and Smegma. The Non side was designed to be played at any speed, and on a unique multi-axis basis. The disc had a second hole for a record player spindle punched into it, so you could have the 7" rotating in an elliptical motion producing a varispeed effect.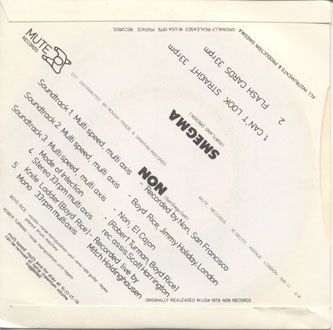 | | |
| --- | --- |
| Years | The 1980s |
| Format | Vinyl 12" singles and albums |
| Metadata | Label on record. 12" outer record sleeves, often with custom inners. Some 12" singles in generic label sleeves. |
| Making playlists by... | Stacking tracks to be played in front of the record player in the right order, so they could be cued up in the dark. |
| On the 'most listened to' playlist | Depeche Mode, Propaganda, Japan, Bauhaus, The Cure, The Fall, Joy Division, Duran Duran, Gary Numan, Thompson Twins. |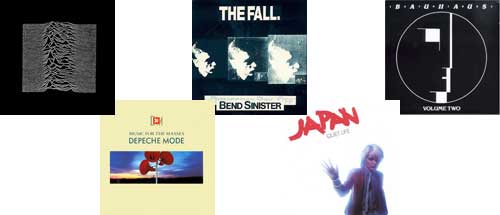 Next...
The arrival of the Compact Disc once again changed the way I purchased and listened to music, and how I made playlists.