Newspaper widget review: Google Gadgets
I recently gave a presentation at the Miami IA Summit about Information Architecture and user-centred design ideas for widgets, and I very often blog about newspaper websites on currybetdotnet, so it seemed like an obvious idea to put the two together, and blog about newspaper widgets.
In the previous post, I looked at the Yahoo! Widgets platform, and was surprised to find that only one British newspaper seemed to feature in any widgets - The Independent. Today I'm turning my attention to Google Gadgets.
About Google Gadgets

Google Gadgets can be used on the desktop or the web and are, like most widgets, made up of HTML, XML and a dash of JavaScript. Google maintains a gallery of available web gadgets. These can be embedded into any webpage that will accept a line of JavaScript, or they can be added to your iGoogle personalised homepage. I found that two British newspapers had been dabbling with official Google Gadgets for your web page.
The Sun
The Sun seems to have two official Google Gadgets available. One is a general RSS reader for the newspaper's headlines, and one is specifically based around following the latest news about Big Brother. Both were developed by Laurence Aronberg, who chose the phrase 'Party hard, die young' as his author_quote in the source code.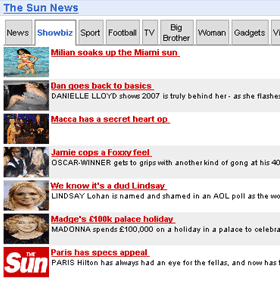 There are no traffic figures available for the Big Brother news gadget, but when I checked the Google Gadgets gallery, The Sun's newsfeed reader was getting 3,983 page view per week.
The Telegraph
The Telegraph appeared to be the only other newspaper to have an official presence on the Google Gadgets platform. There are two widgets available, made for the paper by the digital agency World Archipelago.
One of the gadgets is based around The Telegraph's popular Fantasy Football game.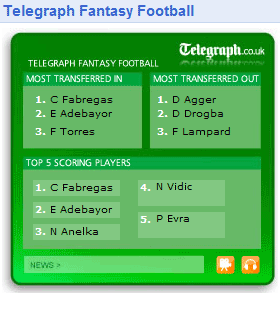 The other was specifically based around the 2007 Rugby World Cup. Google gives no figures for this Gadget, but the Fantasy Football Gadget was getting 8,544 page views per week when I checked,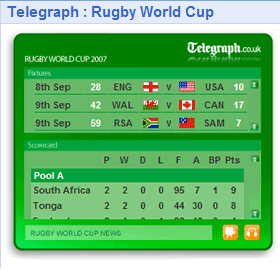 Next...
In the next, and last, part of this series, I'll be looking at some official British newspaper Facebook applications.