"What Samuel Morse was to the telegraph, what Thomas Edison was to the light bulb, Gary Thuerk is to the unsolicited e-mail advertisements popularly reviled as spam." - David Streitfeld, LA Times, May 11 2003
If you woke up this morning to an in-box deluged with unwanted email, you'll be delighted to know that today is the thirtieth anniversary of the first unsolicited mass email or, as we've come to know it, the 30th birthday of 'spam'.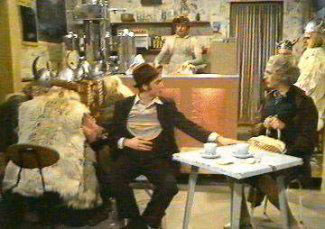 Well, sort of.
The message that marketeer Gary Thuerk sent is preserved in a great article on the topic by Brad Templeton. From the headers it looks like it was written on May 1st 1978, but didn't actually get sent until May 3rd. [1]
The mail was essentially to advertise that DEC-20 supported the Arpanet protocol.
WE INVITE YOU TO COME SEE THE 2020 AND HEAR ABOUT THE DECSYSTEM-20 FAMILY AT THE TWO PRODUCT PRESENTATIONS WE WILL BE GIVING IN CALIFORNIA THIS MONTH. THE LOCATIONS WILL BE:

TUESDAY, MAY 9, 1978 - 2 PM
HYATT HOUSE (NEAR THE L.A. AIRPORT)
LOS ANGELES, CA


THURSDAY, MAY 11, 1978 - 2 PM
DUNFEY'S ROYAL COACH
SAN MATEO, CA
(4 MILES SOUTH OF S.F. AIRPORT AT BAYSHORE, RT 101 AND RT 92)


A 2020 WILL BE THERE FOR YOU TO VIEW. ALSO TERMINALS ON-LINE TO OTHER DECSYSTEM-20 SYSTEMS THROUGH THE ARPANET. IF YOU ARE UNABLE TO ATTEND, PLEASE FEEL FREE TO CONTACT THE NEAREST DEC OFFICE FOR MORE INFORMATION ABOUT THE EXCITING DECSYSTEM-20 FAMILY.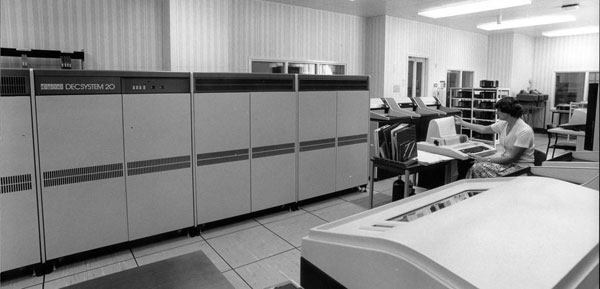 This was the start of a trend that today sees estimates of the volume of spam being anything from 80% to 95% of all email traffic. Richard Cox at Spamhaus yearns for the day when white-coated scientists were still in charge of the network:
" Unfortunately not only did bad people start to use the internet, the gates to the internet were transferred from fairly prudent technologists to people who wanted to make money out of it. "
Tom Simonite has blogged over on New Scientist about the archives of spam that are available on the net, noting that the newer social networking spam mutations are harder to capture:
" Spam is getting harder to archive, though. Email messages are easy to archive, but social networking spam is more difficult, as is video spam, or internet telephony spam. Spam virtual world characters would also be hard to preserve. I haven't found any archives for those newer forms of spam yet, but hopefully someone is collating them for posterity. "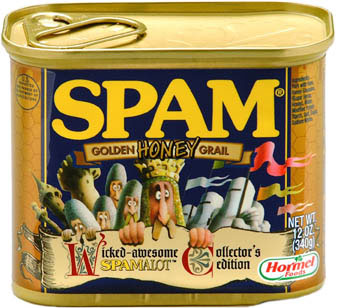 Although the addresses were culled from a directory of people on the proto-internet, sending the first spam had to be done very much by hand. These days, Gary Thuerk occasionally gets to sign autographs as the 'father of spam', and the business of sending out bulk mail is firmly automated and in the hands, or tentacles, of botnets. As far back as 2003 Federal Trade Commissioner Mozelle Thompson said that finding a solution to spam was 'like putting socks on an octopus'
In his articles Brad Templeton eloquently states why he is fascinated with the impact spam has had on our lives and the way we use computers and the network:
" Spam pushes people who would proudly (and correctly) trumpet how we shouldn't blame ISPs for offensive web sites, copyright violations and/or MP3 trading done by downstream customers to suddenly call for blacklisting of all the innocent users at an ISP if a spammer is to be found among them. People who would defend the end-to-end principle of internet design eagerly hunt for mechanisms of centralized control to stop it. Those who would never agree with punishing the innocent to find the guilty in any other field happily advocate it to stop spam. Some conclude even entire nations must be blacklisted from sending E-mail. Onetime defenders of an open net with anonymous participation call for authentication certificates on every E-mail. Former champions of flat-fee unlimited net access who railed against proposals for per-packet internet pricing propose per-message usage fees on E-mail. On USENET, where the idea of canceling another's article to retroactively moderate a group was highly reviled, people now find they couldn't use the net without it. Those who reviled at any attempt to regulate internet traffic by the government loudly petition their legislators for some law, any law it almost seems, against spam. Software engineers who would be fired for building a system that drops traffic on the floor without reporting the error change their mail systems to silently discard mail after mail. "
And Thuerk himself is a good marketing and sales guy to this day. An interview with him on eSecurity Planet finished with these two questions:
Q: Do you feel guilty for sending the first spam?
I never feel guilty. Someone would have done it... I am kind of like the Wright brothers, flying the first airplane. It was a long time before people took a commercial flight. I sent out the first mass email in 1978 and it wasn't until 10 or 15 years later that people realized they can send advertising over email for cheap.

Q: Would you do it all over again then?
Sure. The biggest complaint was not about the notification. It was that the distribution list went into the body of the email, so you saw half of the names in the actual email. All we had to do to do it smarter was to make up a list of smaller distribution lists. It was efficient and quick, and it was cheap.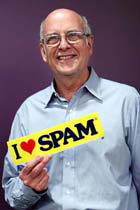 [1] It is a great example of Wikipedia being a bit rubbish as well, their stub entry for Gary Thuerk dates the mailing on May 2nd, although it is the May 1st page where the anniversary is listed, and the mail was actually sent on the 3rd. [Return to article]