Wikipedia users respond to Tom Utley's criticism in the Daily Mail
I bookmarked this piece by Tom Utley in the Daily Mail today - "Abortion and why, since my boy fiddled my Wikipedia entry, I've feared the sinister power of the internet" - with the comment that:
"I'm willing to wager Tom Utley will have an expanded Wikipedia entry pretty soon after publishing this article which seems to pin the decline of Western civilisation on his son's ability to vandalise Wikipedia, the BBC and Google's stance on advertising"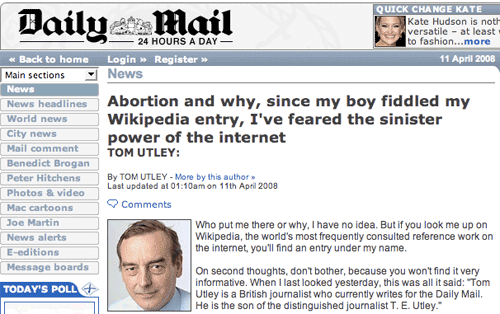 In fact, I didn't even need to wait until it ticked around for today's del.icio.us links to be published on currybetdotnet to be proved right - there has already been a flurry of activity on Utley's Wikipedia entry today. It makes quite an interesting case study.
The article was created on 7 January 2007 and simply stated that:
"Tom Utley is a British journalist who currently writes for the Daily Telegraph. He is the son of the distinguished journalist T. E. Utley."
It was on July 11 last year that it was edited to say:
"Tom Utley is a British journalist who currently writes a witty weekly column for the Daily Mail. He is the son of the distinguished journalist T. E. Utley. He is the proud father of 4 sons. One of them is propa belta at smokin tac. The other is currently havin an affair with Mylene "Sideboob" funbags Klass. Raker. One other is MDMAzin. and the other i dont have any scoop on but there are rumours he was caught fornicating with a dead brown bear that was actually black. Funny that."
Utley described the vandalism thus:
" When I looked myself up a few months ago (all right, it's vain and paranoid to keep Googling myself, but we all have our little faults), I saw that somebody had added a few sentences. It then said that I was the "proud father of four sons" and went on to praise one of them while making a number of puerile and highly libellous allegations against the other three.

My 14-year-old, if I remember rightly, was falsely described as having been caught fornicating with a bear.

Now, I'm no Sherlock Holmes, but even I had no trouble in working out who the culprit was. I confronted the only one of my four boys who had emerged with any credit from the additions to my entry. He crumbled under interrogation, confessed he'd written them himself - and obediently deleted them"
According to the Wikipedia history of the page, the defaced version was up for 12 days. The page was defaced again a couple of weeks later on August 4th, when it was stated that:
"He has a niece named 'Oliva Utley' a.k.a Livvy. She is a sweet caring adolescant and contributes much to society. She is a famous runner and her partner is 'Maria Sturla' aka Sturla :S >> .

This is all you need to know."
Here the much vaunted 'self-healing' of Wikipedia seemed to work well, with the nonsense deleted within 1½ hours of appearing. However, the person who cleaned it was anonymous, and it was the only edit made from that IP address, so that may have been another member of the Utley clan at work owning up to their mischeif.
Fast forward to yesterday, when Utley published his piece in the Mail, and almost immediately a revised version of his biography stub appeared:
" Tom Utley is a British journalist who currently writes for the Daily Mail. He had previously written for the The Daily Telegraph. He is the son of the distinguished journalist T. E. Utley. He is Catholic and a smoker who has opposed various restrictions on smoking. In his Daily Mail column his has commented on Wikipedia. "
So far, so typical of Wikipedia users being touchy about criticism of their project. However, look at the diffs, and within 18 minutes the content was removed with this reasoning.
"Reverted good faith edits by Fnielsen; Tom Utley comments about lots of things - Wikipedia is no more special than anything else"
The article is now exactly as it was before Utley published his piece, with the exception that given the attention of several editors today, the citations section has been expanded to include much greater detail on Wikipedia's sources:
Brook, Stephen. "Mail poaches Telegraph columnist", The Guardian, 2006-04-20. Retrieved on 2008-04-11.
"Axegrinder 23.02.2007", Press Gazette, 2007-03-02. Retrieved on 2008-04-11.
Utley, Tom. "Why my smoking habit proves you can't believe a word the b******s tell you", The Daily Telegraph, 2007-08-03. Retrieved on 2008-04-11.
So it seems that drawing attention to his own article has increased the quality of it a bit. Only a bit mind, as it credits The Telegraph with an article written for the Mail.
At least Utley was on firm ground here, as the diffs supported his story, unlike when Petronella Wyatt was writing about Wikipedia in the Mail on Sunday. She made all sorts of accusation about what had been written about her, seemingly unaware that simply looking at the 'diffs' would demonstrate that she was making up the direct quotes she was attributing to the site.