Promoting bands online in 1995 - Telwhat Mutelibtech to where?
I love stumbling across little bits of nostalgia about the way computers used to be - whether it is an old guide to getting online, or a basic instruction book for programming micro-computers. I spotted another one the other week.
I was going through and ripping some CDs to iTunes - a process which I'm guessing, like the UK, may technically be illegal in Greece - when I came across a Freepost mailing slip card in Nitzer Ebb's dismal final album "Big Hit". Which the album most certainly was not.
During the early 1990s it was quite common for record companies to employ this kind of method of harvesting physical mail addresses for promotional purposes, and I used to get postcards from EMI, Mute, Sony et al on a regular basis. This was, mind you, partly because of an escalating war with one of my friends to see who get the other signed up for the worst selection of Celine Dion, Level 42 and Snap! mailing lists possible, but I digress.
In 1995, as you can see, Mute were offering fans the chance to get in touch with the label's artists by the new-fangled medium of the Internet. And there was no simple http://www.mute.com in those days.
TELNET: MUTELIBTECH.COM
DIAL UP 0181-964 8223 (N, 8, 1)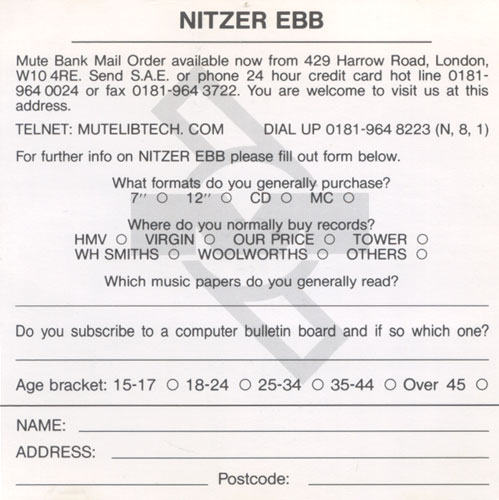 "Telwhat Mutelibtech to where?" was, I suspect the reaction of the majority of fans in 1995, but it was very forward thinking of them at the time. I love how the phone number appears to be just a regular 0181 line in their Harrow Road office, and that they have to give the (N, 8, 1) settings for your modem.