Guess who is the the favourite search term on the Daily Express site?
Whilst doing the research for my lengthy series about the "Web 2.0" features on British newspaper websites, I came across quite a few quirks on them that didn't fit into the main set of articles, but that I wanted to point out anyway.
One of these was on the Daily Express site. Aside from their sadly telling keywords tag content, of course.
When you perform a search on the site, at the top of the results page there is a helpful box which explains the three different types of search that can be carried out on the site, and what you might want to use them for.
You'll never guess the example search they suggest for delving through the archived contents of the paper - "e.g. Princess Diana"

Their readers are obviously not an imaginative bunch, because slap bang at number one in the list of popular searches on the site?
Why, it is "Princess Diana" of course - respectfully with the correct capitalisation.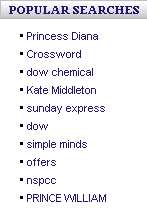 This isn't a quirk caused by the recent screening of the controversial Channel 4 documentary about the princess in the UK - it has been this way since I started reviewing newspaper sites for this series of articles in March.
The Daily Express "Popular searches" list does, of course, still leave open the question of whether the number of searches for "Princess Diana" are a genuine reflection of the Express readers' interest.
Or, as I suspect, that they are the result of incredulous people like me working out exactly how many stories the Express has filed about the princess nearly ten years after her death.