Dead Sudan goat showcases a more topical BBC homepage
Finally last week one of the longest running "And finally..." stories in British media history was put to bed - the married Sudanese goat choked on a plastic bag and entered the dead animals hall of fame.
The original BBC News story - Sudan man forced to 'marry' goat - seems to have been a virtually permanent fixture in the BBC's most popular and most emailed charts for ever. World Editor Adam Curtis was moved to write about it, and even other media outlets began to comment on the popularity of the story.
Within a couple of hours of the news breaking, the dead goat featured on the bbc.co.uk homepage.

This is part of a trend I've noticed recently to reflect more topical material more quickly on the page.
When I used to work as part of the team producing the page, there was always a frustration that the page was not editorially as responsive as we would have liked.
One way that we attempted to rectify this was the development of the "big red button". This put the page in "Breaking News" mode, replacing the promotional area with the top story from the UK edition homepage of the BBC News site.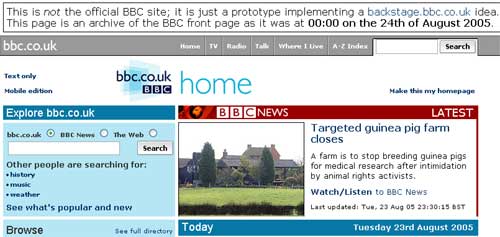 It was a blunt tool, reserved for major disasters, political resignations, and the coverage of major sporting events. And, also, for some reason, the death of Arthur Miller.
It looks like the current production team have cracked the problem of the amount of lead-time that seemed to be required by the editorial team to produce the promotional snippets. They can finally get a fully featured four or five link promo on a topical subject researched, written, sub-edited and up live on the same morning.
Examples in the last couple of weeks have included an item about Chinese maths questions, and a hasty current events driven switch from one topical Panorama investigation to an even more topical one.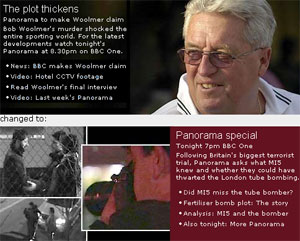 I don't know how long they have been doing this, but I first noticed it a couple of weeks ago, with a promo the team had published about the ghost ship found off the coast of Australia, which was up shortly after the story reached the UK.