BBC Trust abolished not just the BBC Governors, but their URLs as well
When I was writing my post about the BBC's coverage of the Israel-Palestine conflict, I was researching the history of the Balen and Quentin Thomas reports into the subject. Whilst I was doing so I came across the rather depressing fact that at the start of the year the BBC Trust didn't just replace the abolished Board of BBC Governors, they abolished their URLs as well.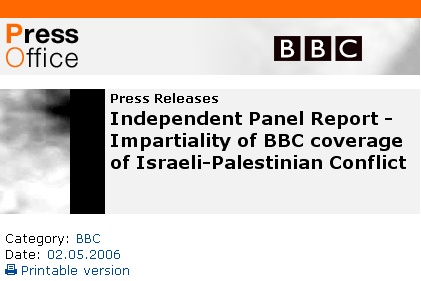 The results of the Quentin Thomas report were announced by the BBC on the 2nd of May 2006 in a press release called "Independent Panel Report - Impartiality of BBC coverage of Israeli-Palestinian Conflict". In the notes it says the report can be read in full over at www.bbcgovernors.co.uk
However, www.bbcgovernors.co.uk now redirects to www.bbc.co.uk/bbctrust.

There is no mention of the BBC Governors on the BBC Trust page, and a search for "BBC Governors" just turns up a few mentions of them in the context of the BBC Trust's work, but no links to where all of the Board of Governors output has gone.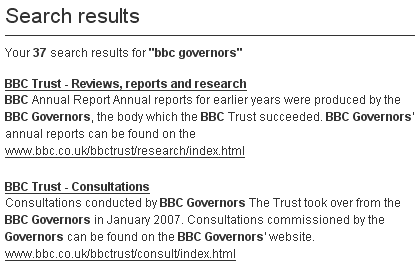 If you go to the "Reviews, reports and research" section however, you might spot a link in the right-hand navigation, leading to the BBC Governors' archive website.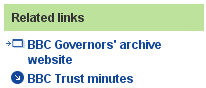 There you'll find all the content of the old Governors site, including the report I was looking for - all under a new domain name - www.bbcgovernorsarchive.co.uk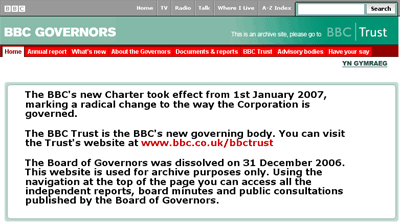 Why do that?
I mean, I completely understand why the site has been changed, with a new homepage and banner reflecting the archive status, and acting as a link through to the new BBC Trust site.

But if the material is important enough to keep online, why break every single incoming URL on the whole of the rest of the internet to the contents of the site, and make it harder to find?