The BBC's definition of "stackable series" in the iPlayer doesn't make commercial sense to me
I mentioned in my previous post about the iPlayer that I found I could not agree with everything that had been said by the BBC Trust in their proposed approval of the BBC's new on demand services, nor with all of OFCOM's submission about the potential market impact of the service.
One area where I find the BBC Trust's decision mystifying is on the issue of series stacking. They have decided to divide BBC programming into series which can be stacked and those which cannot.
I can certainly understand the likely impact that stacking series would have on commercial on-demand and pay-per-view services, and understand why commercial content providers would seek to limit the BBC's ability to do it. The BBC Trust have therefore provisionally found that:
"the value created by series stacking applies mainly to certain kinds of series – those with a distinct run, with a beginning and end, and a narrative arc or those which are landmark series with exceptionally high impact. The case for series stacking does not extend to continuous series such as soap operas, nor to series of discrete episodes with no narrative link that are not landmark series with exceptionally high impact. Therefore we agree with Ofcom that there is a need for a tighter definition of 'series' than the BBC Executive provides. We set out in the table below examples of programmes which we consider should be offered for series stacking and programmes which should not."
So far so good, I can follow that, even if it isn't clear where something like "Spooks" or "Waking The Dead" fall within that definition. The BBC Trust provide a table which attempts to illustrate how they expect the divide to be between series that are stackable and series that are not.

Now, looking at that table, I have to ask what is the market value of a 13 week old episode of Doctor Who or Bleak House compared to a 13 week old episode of EastEnders or Blue Peter? And the answer for me is that I've never seen my local HMV in Walthamstow's DVD section racked out with discs of 6 week old EastEnders or Blue Peter episodes. On the other hand the so called "vanilla" Doctor Who DVDs of seasons one and two did a roaring trade, and the early volumes started being on sale whilst the latter part of the season was still transmitting.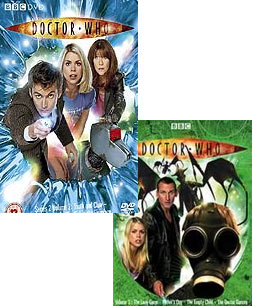 Surely increasing long tail public value, and minimising commercial impact, would suggest it is more sensible to do the reverse? Allow the 13 week (or 6 week or n week, whatever) stacking of ongoing shows like Top Gear, Blue Peter and EastEnders with little resale value in their original broadcast format, and more severely restrict the length of time that programmes with higher production costs and a higher potential secondary rights yield are available to download for free. People buy DVD box-sets of series with high impact - they don't buy box-sets of the kind of thing that the BBC Trust is proposing to exclude from series stacking. Letting people catch-up the two episodes of Top Gear they missed whilst on holiday seems to be a more minimal impact that letting people watch expensive series at their leisure over a longer period of time.
I have to say that on this one I think both the BBC Executive (in their original proposal) and the BBC Trust (in their proposed verdict) have not struck the right balance between the BBC and the commercial sector, and I think it is the area that is most likely to see a shift at the end of the BBC Trust's current consultation period.
the views expressed on currybetdotnet are my own, and do not reflect the views of my current or former employers.