5 things you probably don't know about me...
...(unless you are my mum)
I've been tagged directly by Dave, and indirectly on This Is Not My Country, so just imagine all the usual humbug about how I wouldn't normally do this kind of thing but...
1) I played the lead role in my school's annual production of Macbeth when I was an insecure troubled teenager. A couple of months spent brooding over the Scottish play at the age of 17 didn't really help to be honest.
2) I used to play guitar in indie band Bark Psychosis, although I got booted out before they released any of their records. I helped found the group when I was at school in the mid-80s as "The Young Bosnians", long before the break-up of Yugoslavia and the subsequent war in Bosnia hit the public consciousness in the UK. We were named after the terrorist group who sparked off the First World War by assasinating Archduke Franz Ferdinand in Sarajevo, at a spot I visited on my recent travels. Maybe I would have had more success if we'd just called the band "Franz Ferdinand" instead.
3) In 1993 I composed and recorded a 25 minute piece of music which was used to accompany Waltham Forest's official November 5th fireworks display at the Town Hall. I also got to do a ten minute spot live before-hand, and distinctly remember looking out at the crowd and thinking, "Bloody hell, I'll have to get big enough to play Wembley Arena before singing in front of this many people again". I never played Wembley Arena.
4) Way ahead of their time in the 1998, interactive performance artists Blast Theory pre-empted Big Brother and organised a competition called "Kidnap", in which they promised to abduct two 'lucky' winners and hold them hostage for 48 hours whilst broadcasting the ordeal via webcam. The project was being funded by the price paid to enter the competition, and thinking it seemed like an interesting idea to support, I happily sent in my couple of quid and promptly forgot about it. Until several months later when the 10" x 8" photograph of me buying cigarettes from the newsagent down the road popped through my letterbox, and a web-page appeared on their site tracking my daily movements. It turned out I got chosen as the reserve kidnap victim should the grab of the two winners fail. They had contacted my colleagues at Reckless who had agreed to tip them off when I went for my lunch-break. Both the earlier snatches went as planned, and so in the end I wasn't kidnapped.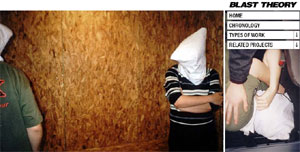 5) Although I worked at the BBC for years I never appeared on screen, although I did appear on BBC Two before I joined. They used to have a 'youth strand' called Def Two, and they had an alternative music programme called Snub TV. They filmed a section at a Happy Mondays gig I was at, and part of the clip panned across the front row of the crowd to reveal a group of floppy-dancing zombies in slow-motion looking completely drug-addled. And I was slap bang in the middle of them. This was quite a shock both to me, as I didn't know it had been filmed, and more importantly, to my parents, who were sitting with me around the family dinner table eating as it was first transmitted.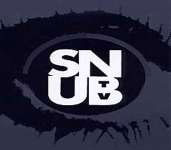 Without knowing whether they've done this already I'd love to annoy people by tagging Frankie, Nic, James, Teacher Dude, and my better half over on 'A lemon tree of our own'.