Yahoo! door-stepping ex-Google Answers researchers
I loved this cheeky little blog post from Yahoo! last week encouraging the paid researchers from Google's now defunct Answers service to jump ship to Yahoo! Answers
Please consider sharing your knowledge with millions of people on Yahoo! Answers; connect with users with shared interests; get answers to all your questions; and help build the world's most vibrant and trusted community.
They've even set up a Yahoo! Group specifically to help those involved manage the change.
I've written before that personally I was struggling to find the value in an open-forum answers service, but it is clearly still a high priority project for Yahoo! and they seem to be pushing it all the time. Even their "Top Searches of 2006" site featured the seemingly obligatory push for Yahoo! Answers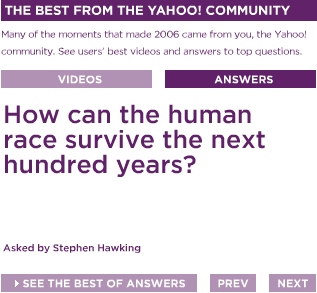 It did occur to me though that if they do manage to poach any researchers from the Google Answers, perhaps the first question they need to ask is "How can we stop comment spam on our corporate search blog?"