More of my photographs included in Schmap's European travel guides
I mentioned the downloadable travel guides Schmap earlier this year, when they included some of my Flickr photographs of Zaragoza in their information on the city.
Well, they've just issued a whole series of second editions of some of their European guides, and it looks like it is going to be pretty hard to use them without bumping into some of the Creative Commons licensed photographs of my recent travels through Europe.
I don't think that a couple of the pictures Schmap have picked are actually that good. The picture of Santa Maria del Giglio church in Venice can only have been chosen because they couldn't find another freely licensed picture of it.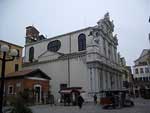 To be honest it isn't a particularly beautiful or photogenic church, although it does have some fantastic carved maps of the major European cities of the time set into the walls, including some of the ones we had visited earlier on our trip, like Split.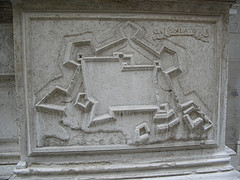 The fact that I take photographs of football and football stadiums throughout Europe seems to be my big strength as a contributor to their guides. For Rome they have picked a whole series of photographs that I took during an amazing night I spent at the Stadio Olimpico, watching a Serie A fixture between AS Roma and my Internazionale. I was sitting in with the Roma fans, having to try very hard to contain myself when a near last minute equaliser from Inter Milan ended Roma's record breaking run of consecutive victories in the top flight of Italian football.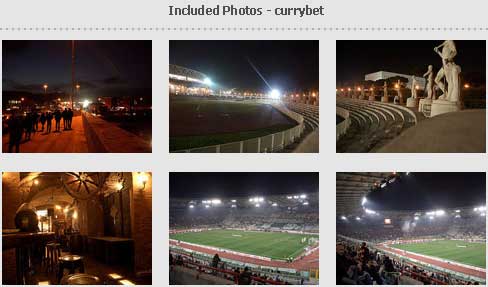 They've also included some of my pictures in their download guides for Madrid, Milan, Naples, and Vienna.
3 of the 4 pictures from Milan included are from my visit to the Guiseppe Meazza stadium to watch another Serie A match - A.C. Milan versus Cagliari. A.C. Milan won on the night, but of course, following their conviction for being involved in the Italian match-fixing scandal this summer, who knows whether that was a genuine game that I paid to see.