"Schmap: Zaragoza Photo Inclusion"
I've been playing around with a downloadable travel guide application called Schmap over the last few days. Essentially it brings together a detailed city map, suggested walks, pictures of a city and reviews of the local night life and eateries, into one download which can be accessed offline. A lot of the content is sourced either from Wcities and Flickr.
Using people's Creative Commons licensed photographs from Flickr gives the Schmap team access to free content, and also provides them with a great little publicity tool. I had never heard of the product until a message popped up in my Flickr account that some of my photos of Zaragoza from when I was speaking at IBERSID had made it into their guide to the city.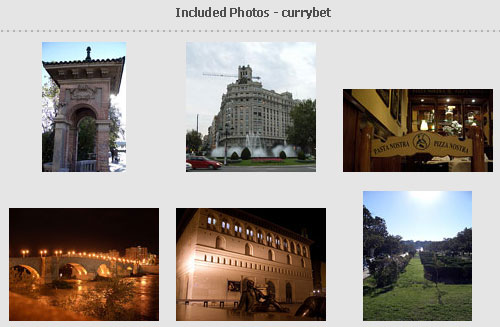 Currently the Schmap guides covers around twenty major European cities and twenty locations in the USA. If they ever get round to doing Chania in Crete then I think my Flickr account will pretty much have the whole thing covered for them.
The information in the Schmap is presented in three panes - and the start-up view features a city map in the left-pane, the main body of information in the central pane, and a right-hand pane that gives more detail on specific places of interest as links are moused-over in the main body of the text.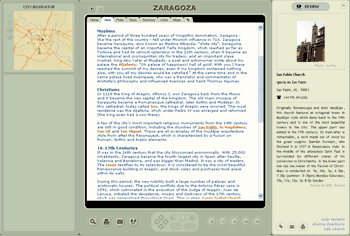 The main issue I had with the idea though was that you had to download the specific Schmapp player, rather than have the information simply packaged up for offline web browsing. The Schmap FAQ states that.
1. An online travel guide might allow for interactive browsing, but we wanted to link content dynamically... The Schmap Player allows for seamless browsing of maps, destination background reading, reviews and photos.

2. A lot of the functionality we've put into the Schmap Player - things like printing your own customized guide and customizable virtual tours - would have been very difficult to achieve in an internet browser. (And some of the functionality we're planning for Schmap Player 2.0 – see below – would be pretty much impossible without a download).

3. We wanted you to be able to enjoy Schmap Guides offline as well as online. More than 60% of us now travel with our laptops: how about browsing a Schmap Guide on a plane or train, or in the hotel, (without having to worry about connection fees)?

4. Some travelers return home to technologically backward nations, such as the UK, where they still use old-fashioned metered broadband or dialup solutions (and where a 'wireless' is something you carry with you to listen to popular music or the cricket scores). Browsing an online travel guide can be expensive and cumbersome for such individuals.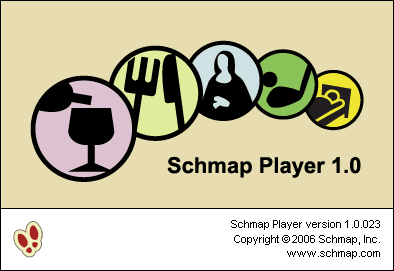 In all honesty though I couldn't see anything that could not have been pretty much achieved with either Flash or some JavaScript widgets in a browser - even if it didn't look quite as good or work quite as swiftly. That would at least allow Schmaps to be cross-platform, rather than restricted to Windows 2000 and XP as they are at present.
Downloading and installing the player isn't a huge inconvenience, but I did find the application didn't work flawlessly, or always behave like a native Windows OS application. I particularly had problems if I tried to resize the window the Schmapp was running in. Making it smaller so that I could have an IM window or a notepad running alongside it sometime broke the UI, and restarting the Schmapp appeared to be the only way to fix it.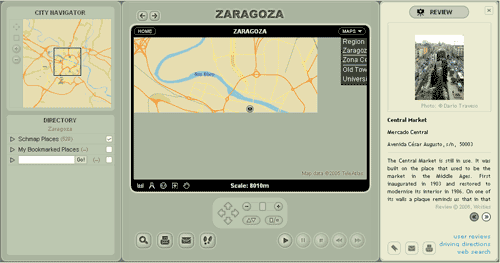 What I was most impressed with though was the fact that real effort had been put into making an offline interactive travel guide that would be useful on the ground. The Schmaps include walking itineraries that take in the major locations in a city, with pictures and a detailed map to help you find your way around. Having just spent a couple of months struggling with the vagueness of the maps that appear in some of the Lonely Planet guides, I would really have appreciated it. The application does occasionally try to phone home for updates, which will keep the info in it dynamically fresh, but otherwise lives quite happily offline.
I'm not sure that a whole series of Schmaps would have been good enough for my wife and I to use exclusively on our recent backpacking trip through Europe, but they would definitely make a good accompaniment to a weekend city break, and if I was visiting one of the cities they covered I would probably download the guide for it.
Especially if they keep on using my pictures :-)