Docking the iPod after a long gap
One of the things I was most looking forward to about arriving back in the UK was firstly setting my main computer back up again, and secondly, docking my iPod with iTunes for the first time in nearly nine months.

I was worried that neither my or my wife's iPods would survive our trip with their data intact, and so before we left the UK I had copied onto the laptop we were taking with us around 15Gb of music we both liked, so that if something went wrong with one of our iPods we could at least synch it with the laptop and get some music back onto it. It turned out not to be necessary.
It is testament to the open format of iTunes that before docking my iPod yesterday I was able to extract some data about the existing state of my music library before I synched the two, which means that I can now tell that during our trip I listened to exactly 5,436 songs in their entirety on my iPod - which averaged out to be just under 24 songs per day across the 228 or so days between synchronizations. Previously on a journey like ours you might have been able to say 'my favourite three albums that I listened to were x, y, and z', but it is quite amazing to have the data of what I listened to on such a granular level.
Before I went away my most listened to tracks centered around Depeche Mode, Idlewild, Kaiser Chiefs, Nick Cave and Goldfrapp, and represented about nine months use of my iPod/iTunes combo. The most played track was the lead single from the latest Depeche Mode album, 'Precious', with 37 plays, most of which were done on the commute to work.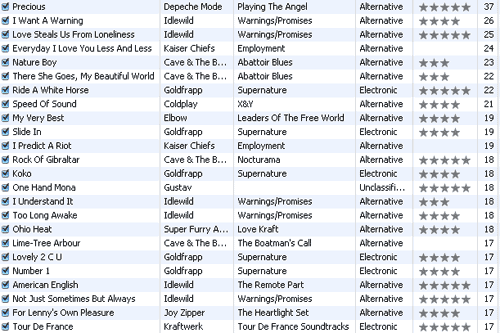 Multiple plays whilst away of the most recent albums by Franz Ferdinand, The Strokes and The Killers transformed that musical landscape by the time I returned. The iPod aggregated (as far as I can tell) all of the plays during my stay abroad on top of that original data - certainly I haven't yet been able to find a track which I am sure I listened to with a play count still at zero. Now the most played track is 'Do You Want To' by Franz Ferdinand with 70 plays.
The fact that I could get either a text export or an XML file which included the play count information meant that I could mess around with the information to my heart's content, and it put me in mind of Dan Hill's writing about building hackability into products. It wasn't a huge 'hack' of course, but because of iTunes being open about the data I was able to stick it all into Excel and find out things like the fact that whilst I was travelling I played 529 songs for the very first time on my iPod, which was just over a third of the 1,430 individual tracks I listened to. I was even able to visualise my personal musical 'long tail' over the period.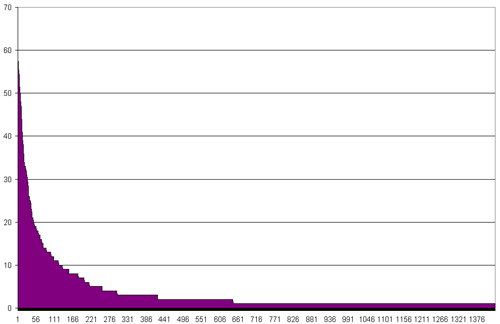 The experience of using the iPod in isolation from iTunes for such a long time wasn't entirely without issues though. One of the great things about the iPod is being able to make new playlists 'On The Go'. However, I think the portable device itself is frustratingly limited when you do, as there is no facility for naming these new playlists. By the end of our trip I had something like 40 new playlists, all called 'New Playlist n', and all annoying stuck at the bottom of the playlists menu, neither in alphabetical order, or next to the 'On The Go' playlists that already existed on the machine.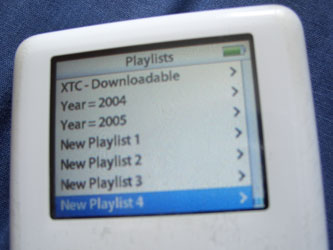 That meant I had to learn that playlist number 31 was Franz Ferdinand, playlist number 28 was Elliott Smith etc. Frustratingly, when the iPod is docked, these playlists all get changed to being called 'On The Go n', with new numbers, and iTunes sorts them according to their text character values rather than their numerical values, so you get a list order with 'On The Go 39' followed by 'On The Go 4', then 'On The Go 41'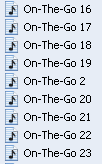 In the end though I can't complain really - I've never previously been able to travel with so much music in my pocket, or with so much access to the information about how I used it.