The software used to access the BBC homepage: Browser share - part 4
This is page 4 of a 6 page article - 1 2 3 4 5 6


Download a print version of this article
Browsers Visiting The BBC Homepage
The browser market amongst those requesting the BBC homepage still shows a vice-like grip from Microsoft products, but both Firefox and Safari represent small but significant deviations from the Internet Explorer norm. All the versions of IE together make up just under 86% of requests to the BBC homepage, with Firefox accounting for 9.1%, and Safari 2.6%. They are the only browsers to claim over 1% of the requests, although there is a presence in the table for Netscape Navigator, Mozilla, Konqueror and Camino. The requests from the latter two number the thousands, whilst Navigator and Mozilla generate tens of thousands of requests.
Opera's recent move to free downloads doesn't seem to have paid off significantly - yet - with it claiming 0.32% of requests. I have a couple of colleagues who really rate it as a browser, and I used to use it religiously myself a couple of years back when it introduced me to the concept of tabbed browsing long before Firefox arrived on the scene. I'm sure the move away from the ad-sponsored past will increase that share, and it would be good to see Opera providing additional competition in the browser market.
Liberate, the stuff used to display the web on interactive TV still generates significant requests - although to be honest I'm unsure what they actually receive when they access the page. Our old web-on-tv version of the page was removed earlier this year as it was badly broken.
Browser Share of Requests to the BBC Homepage
Internet Explorer
85.9%
Firefox
9.7%
Safari
2.6%
Netscape Navigator
0.65%
Mozilla
0.64%
Opera
0.32%
Liberate
0.09%
Konqueror
0.027%
Camino
0.026%
Lynx
0.002%
Sunrise
0.0003%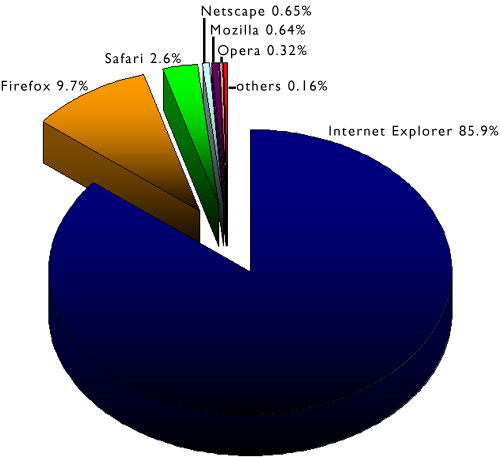 Continue to find out about the market share between the different versions of Microsoft's Internet Explorer, and to find out about the usage of different browsers on the Mac platform.

Download a print version of this article