And so the shuttle came safely home today.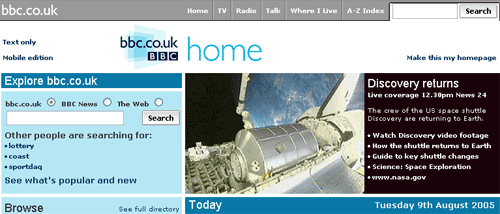 The coverage on the BBC over the last couple of days hasn't met with universal approval:
"Discovery Returns ... "

... is the title of this morning's coverage in a "BBC1 'Breakfast' Special" of the return to earth of the space shuttle ...

A mistitle if ever there was one ...

Over the years, the take off and return of the shuttle has generally received news coverage no more informative than "The shuttle launched from Cape Canaveral today ... ", or "The shuttle landed at the Kennedy Space Centre in Florida today, after launching a new satellite into orbit that allows governments to spot the colour of your undies from two hundred miles up ... "

I submit that a more accurate title would have been "Discovery Might Destroy Itself On Re-Entry - You'll See It Here First If It Does."
It has been an interesting couple of days - seldom do news organisations get to know to the minute when a potential disaster is scheduled to happen - it is no surprise that the BBC planned to extend Breakfast to cover it. I'm happy to take the point that 'routine' shuttle missions don't get this much coverage, but then it was hardly a 'routine' mission, what with NASA grounding the rest of the fleet in the middle of Discovery's mission, let alone the ongoing repairs whilst in space. I also remember there being intense media coverage after the Challenger accident of NASA's return to space in 1988, also using Discovery.
Now the crew are safely on earth I feel happy to pick fault with one of their statements from space:
Commander Eileen Collins described on Thursday how widespread environmental destruction on Earth could be seen from the shuttle.

"Sometimes you can see how there is erosion, and you can see how there is deforestation," Commander Collins said.

"It's very widespread in some parts of the world. We would like to see, from the astronauts' point of view, people take good care of the Earth and replace the resources that have been used."

In her conversation from space with Japanese officials in Tokyo, including Prime Minister Junichiro Koizumi, she said her view from space emphasised how Earth's atmosphere must be protected too.

"The atmosphere almost looks like an eggshell on an egg, it's so very thin," she said. "We know that we don't have much air - we need to protect what we have."
I can't imagine how amazing it must be to see the earth from space. To be honest flying within the atmosphere scares me, so I don't know how I'd cope. It certainly makes astronauts want to comment on environmental issues though. Back in 2001 Commander Frank Culbertson on the ISS said:
"We see storms, we see droughts, we saw a dust storm a couple of days ago, in Turkey I think it was, and we have seen hurricanes," he said.

"At night you see cities well lit up in populated parts of the world."

"It's quite amazing to see how many people actually live down there and how much effect they are having on the environment and the land we live on."

"It is a cause for concern. Since my first flight in 1990 and this flight, I have seen changes in what comes out of some of the rivers, in land usage."

"We see areas of the world that are being burned to clear land, so we are losing lots of trees."

"There is smoke and dust in wider spread areas than we have seen before, particularly as areas like Africa dry up in certain regions."

"We have to be very careful how we treat this good Earth we live on."
All this prompted me to start researching the environmental impact of the shuttle itself - even starting to wade through this PDF of the original Environmental Impact Statement about the Shuttle program from the 70s. Luckily for me, someone at BBC News was prompted to do the same thing, hence this article yesterday - Is the Shuttle green?. The verdict is that although it might make the ecosystem near repeated launches slightly more acidic, it is officially "mostly harmless". Mind you, one of the comments points out:
how is the liquid hydrogen manufactured and then maintained at such a low temperature? Because of inevitable inefficiencies in the manufacturing and storage processes, this is bound to use more energy from fossil fuel than the total energy that the rockets use to lift the Shuttle into orbit. Damage to the atmosphere from the release of carbon is thus greater than if the Shuttle burnt fossil fuel direct. While the radiative forcing element of burning fossil fuel at altitude will be missing, the release of vapour at altitude also contributes to the formation of clouds, which also raises the temperature of the atmosphere.
Whilst on the subject of the shuttle, if you have the time, I enjoyed reading A Rocket To Nowhere by Maciej Ceglowski.
Personally though, I'm still just as enchanted with the idea of manned space-flight as I was when I was a youngster, and hope it continues for a long time.