Create Varied Stuff Online With The BBC
The BBC currently has up a pilot page at bbc.co.uk/create. It lists areas of the BBC's online offering where users can make and do stuff on the web, categorised into Sound and Vision, Writing, and Parents & Children. The activities range from making music in the Radio One studio, to being a Neighbourhood Gardener, to blogging in the Western Highlands & Islands. Mind you, I'm still not sure that the average user will understand what a 'pilot' page is - it is yet another example of using very television orientated language about the BBC's web output.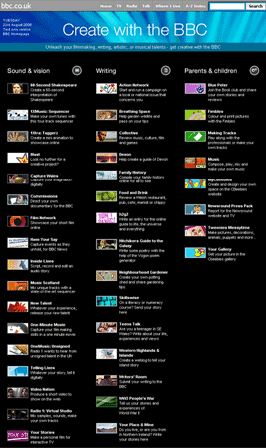 I work at the BBC, and even I am sometimes amazed at the breadth and depth of the material online at bbc.co.uk. My CBeebies looks like a fantastic way of introducing young children (and in a clandestine fashion their parents) to the concepts of personalisation on the web.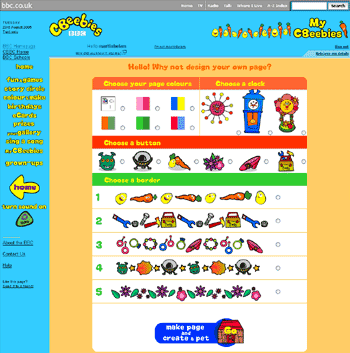 I was also impressed with the range of local initiatives to generate community based content, like Inside Lives in Lincolnshire, Your Place And Mine in Northern Ireland, and the over-arching Your Stories portal:
Your Stories is an interactive TV service which appears behind the red button on BBCi digital satellite (page 5670). Each day you can see short films of personal stories from across the UK. Your Stories is drawn from two BBC projects that give you the skills to make short films; Video Nation and Digital Stories.
The most useful thing for me though has been finding out about Breathing Space. Now I know how to make our garden more friendly for hedgehogs - provided, of course, our neighbours stop throwing stuff over the fence.