Vote to name the new Wembley footbridge on BBC.co.uk
Whilst I was away my team have helped BBC Radio Five Live put together the online vote to name the new footbridge at the re-built Wembley Stadium. The open suggestion submission process has ended, and Five Live are asking listeners to choose between a shortlist of five entries - Sir Alf Ramsey, Sir Bobby Charlton, Sir Geoff Hurst, Live Aid and The White Horse. The LDA reached the shortlist using a selection panel which included Jonathan Pearce, and of the 670,000 nominations excluded the most popular - Dietmar Hamann. [1]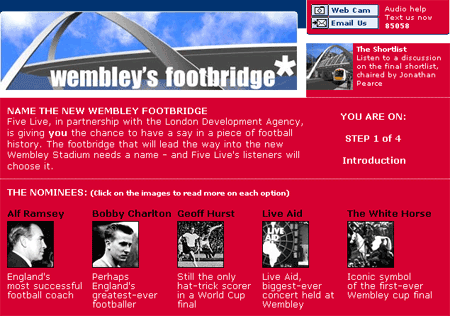 If you choose to go and vote, you also get the opportunity to enter a competition to win a fantastic (but unspecified) prize. Well you do, if unlike me, you aren't a BBC employee.
The vote closes next Monday, and judging by the number of votes we have already received it is going to be one of the most popular online polls my team have delivered the results for.
[Regular readers may insert their own Kraftwerk related joke here]


[1] For non-footy fans, Hamann scored the final goal at Wembley in October 2000 for Germany as they beat England in a dreary rain-sodden game that I was at. I remember it clearly because not only was it the day that Kevin Keegan (thankfully) walked out on England following the match, but my brother-in-law who was with me missed the only goal because he had nipped to the toilet, much to my amusement. Well, come on, I had to wrestle some amusement out of the day) [Return to article]