The 1908 Olympics in White City
Another thing that happened whilst I was away from work was that the BBC's Broadcast Centre got a wall display about the 1908 Olympic Games that were held on the site.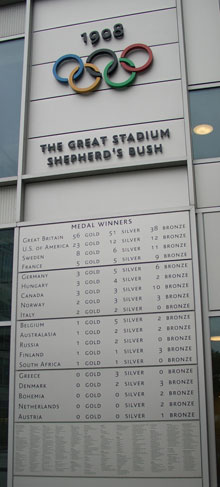 As I approach my office every morning I cross over a marker on the ground that shows where the finish line of the 1908 track was placed. (Sometimes, if I think nobody is looking I approach it in a faux slow-motion run whilst whistling the Vangelis theme tune from Chariots Of Fire.)
The display on the side of the building reproduces the the medal table from 1908 - Great Britain using home advantage to lead the way. It is great to see entries from places that no longer exist as a 'nation state' (namely Bohemia, two bronze medals for Fencing which included a solo award to Vilem Goppold de Lobsdorf and a team award), and the fact that 'Australasia' was present as a semi-continental entity.
In it there is also a lesson to give hope the 2012 London Olympic Bid team even if they lose out in the award of the games - the 1908 Olympics were originally due to be held in Rome, but were reassigned to London.