Claudia Brücken, Andrew Poppy and Paul Humphries at Sister Ray, and a trip back to The Blue Posts
On Friday I went to Sister Ray in Soho for a CD signing by Claudia Brücken, Andrew Poppy and Paul Humphries. I've been a big fan of Claudia's for over twenty years since her early days in Propaganda, so it was nice to meet her. She's recently been working with Paul Humphries, once of OMD, under the name OneTwo - who I saw play live in Islington last year - and has also put out a cover versions album accompanied by Andrew Poppy on the There (there) label they are running.
I've not been to a signing at Sister Ray before, and it is such a small shop that I imagined it could have been very cramped and uncomfortable, but it wasn't, due to the fact that everyone queuing seemed so polite. I know one of the guys that works there from my own dim and distant record shop days, and we had a quick chat - apparently they now do quite a few signings there, so I'll need to keep a closer eye on their website.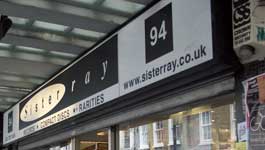 I got to have quite a long chat with Claudia, talking about the shows One Two had done, and Propaganda's reformed appearance at the Trevor Horn concert at Wembley Arena. We laughed with Paul about the fact that at the OneTwo gigs the camps of OMD and Propaganda fans group together in little clusters in front of the respective member of the band.
I asked Claudia how her collaboration with Martin L. Gore from Depeche Mode on the track 'Cloud 9' had come about. She said it was simply because they used to live near each other, and he used to invite her to Depeche Mode after-show parties etc. One day she'd asked if he'd help her develop this song idea she'd had. Apparently Martin had been quite reluctant, as he rarely does collaborations, but then called back the next day to say he had something for her.
Claudia was asking people how far they had come to meet them, and really surprised me by saying, "You know, it is twenty years this week since 'Duel' (Propaganda's second and highest charting single) was in the charts". Facts like that really knock me back, as I still remember clearly the excitement of buying records in the mid-eighties, back when Walthamstow had record shops. "Wow", I said, "that just makes me feel...." and I trailed off. "Imagine how it makes me feel" laughed Claudia.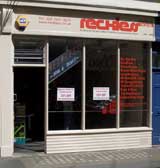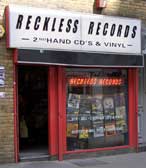 Whilst I was in Soho I took the opportunity to visit a couple of other old haunts. I spent around four years working in the two branches of Reckless Records on Berwick Street, and during that time I spent many a lunch hour or post-work de-brief session in The Blue Posts on the corner. I was delighted to see that The Blue Posts had not changed one bit. Well, almost. True, there was a new barmaid obviously, but the grumpy landlord was the same, the decor was the same, and the horse racing was still on the telly. It is like a rural old-mans drinking pub somehow transported into the middle of Soho. If you want to get a measure of how unfriendly it is, the toilets are upstairs, behind a door which is marked "PRIVATE". It isn't quite a "Beware Of The Leopard" sign, but unless you've ever hung around long enough to ask the staff where the toilets are, it appears as if the pub doesn't have any toilets.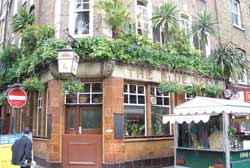 Funnily enough it was only when I was editing the photos I took that I noted The Blue Posts actually has a plaque on it. Now, on first seeing it in the pictures I generously assumed it didn't say "Martin Belam used to drink here", and did a bit of research to turn up the fact that the plaque is in honour of "international dance actress Jessie Matthews OBE who was born at 94 Berwick Street and took her first dance lessons above this pub". This fact was quoted in a fantastic review of the pub from ultimatepubguide.com which says it all better than I've managed:
Step into Berwick Street's Blue Posts and the pub's ambience immediately transports you to a northern working mens' club. Notwithstanding its central Soho location, scores of drinkers standing outside, and its Hanging Gardens façade, the pub definitely lacks a Soho vibe but is not wanting in 1970s styling, most of it sadly authentic.

The Victorian 5-light chandeliers appear to be the only original feature. A pair of crappy 1970s speakers indicates the ultra-retro sound-system, and the tiled fireplace contains a 60s/70s gas fire that is surely condemned. Beneath the tiled walls, the plain tables and chairs sit on the polka-dotted carpet, and a variety of plants disguise the plain frosted windows. The pub has two entrances, Berwick Street and Broadwick Street, although the corner doorway has long since been sealed with paint and now acts as a display for various brass bedpans.

Topped with brass pots, kettles and vases, the beamed wooden bar juts into the pub like a peninsular and the doddery bar staff, who are old and slow, have a range of optics on beams above their heads reminiscent of switches in a Boeing 747 cockpit. Like a grocer's counter, a fridge behind the bar has a glass back to it so drinkers can see what beverages are on offer, like children gawping into a fish tank.
The fact that the glass backed fridge now shows a selection of bottled beer is a vast improvement. On my lunch breaks from Reckless it was a place where you could gaze in awe as the bar-staff haphazardly prepared sandwiches that you wouldn't wish on your worst enemy...