A gallery, a monument, a museum and a spot of shopping - Day-tripping in London
With a month off on my hands I'm working through a lengthy list of things that I've always wanted to do around London, but have never found the time for. Today I ticked three things off the list.
I started at the Estorick Collection at Canonbury Square in Islington, which until June 5th has a exhibition on Avant-Garde Graphics from 1918 to 1934. The gallery itself is quite small, consisting of six rooms, five of which are taken up with the Avant-Garde exhibition. The displays themselves were an excellent mix of examples from around Europe, notably the German Bauhaus and Russian Constructivists, and included original hand-lettered examples. It is very easy to take for granted the pervasiveness of desk-top publishing and CAD, and great to see original examples of photo-montage and image distortion where the artist had to actually work with the physical photograph rather than using the Filter menu on Photoshop. It's £3.50 to get in, and well worth it - there is also a cafe and shop at the gallery.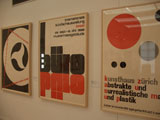 I went from there down Upper Street, and took the time to take a couple of what are for me very sad photographs - the Islington branch of Reckless Records closed down. I worked in that branch for around three years in the middle of the nineties.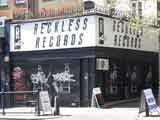 I then headed to Bank to take the long underpass to The Monument. I don't recall ever having been up it before, and was able to blag a complimentary ticket from my wife. For facts and figures fans the monument was completed in 1677, took six years to build, is 202 feet tall (which represents the distance it is from the start of the Great Fire of London in Pudding Lane), and has 311 steps. It is a little bit claustrophobic going up the spiral stairs, particularly if you meet a large party travelling in the opposite direction. The views across London are very good, and it was interesting to note that the British don't have a monopoly on anti-social behaviour as I watched a group of foreign students thoroughly enjoy themselves by spitting on passers-by below. You even get given a certificate when you reach the bottom again.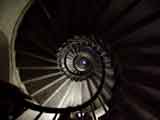 Next I headed to somewhere else I used to work - the familiar surroundings of Covent Garden - to visit the London Transport Museum. Bizarrely in all the time I worked at Bush House I never once got round to popping in there on a lunch-break. I haven't been there for years in fact, and it seemed much smaller than I remembered. They do though have an excellent selection of buses, trams and trains, including one ex-District Line Q stock carriage which was taken out of service a mere couple of weeks before I was born.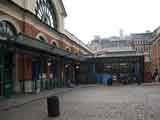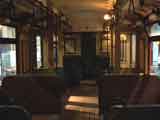 My final port of call was Regent Street for a visit to the Apple Shop, where I finally succumbed to peer pressure and bought myself some 21st century deli-boppers, or an iPod as most people call it. Honestly, you just know that Channel 4's "Top 100 Of The Noughties" programme on New Years Eve 2009 is going to feature Stuart Maconie, or someone similar, bemoaning how in the mid-noughties everyone was wearing those silly white earphones and it was all iBloodyThis and iBloodyThat. Purchasing one wasn't quite a road to Damascus style conversion. It was, though, a conversion accelerated by borrowing my wife's iPod to take back and forth from the LCD Soundsystem gig I went to on Monday. I couldn't believe how even having a fraction of my music collection with me (i.e. the small bit of my stuff that my wife likes) was so much superior to carrying a bundle of MiniDiscs with me to suit every mood.
And then I got home to find that despite my previous complaints to my local council the rain had again flooded the outside of my house. Bah!