Five Live Sporting Century vote in the Evening Standard
You may have guessed from my paucity of comment about it recently that I am no longer working on the search project within the BBC. I am currently producing / project managing a disparate group of products that I haven't felt comfortable writing about. Until now.
One of the projects I have been working on - the Radio Five Live Sporting Century - made a full-page splash in the Evening Standard today as they managed to blow the embargo on announcing the final results - which were meant to be under wraps until Christmas Day. [I've shrunk the image to reduce the amount of 'spoilers']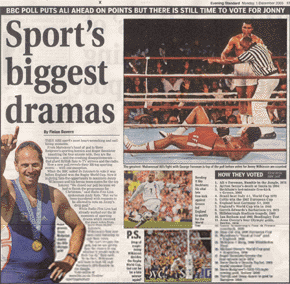 In truth it was the Assistant Producer who got much of the difficult work done, since the vote actually launched whilst I was away on holiday, but it feels like a relief to actually be able to write about work again - even if it is only because someone else leaked the details first! The main thrust of the article focussed on something that had vexed us as well - the vote closed on 21st November, the day before England's Rugby World Cup triumph, which consequently doesn't feature in the list.
[added 3/12/03]...of course, I was so concerned about giving away spoilers for the final result I failed to notice the glaring error in the Evening Standard article. we spent a lot of time and effort validating the voting data we received, but one thing I wasn't involved with was an editorial sense check of the results. To be honest, I don't actually know what the final result was.
But I'm sure it wasn't what was printed in the Standard - I think it is unlikely the Great British public voted for their top twenty events in strict alphabetical order. You would have thought even a junior hack at the Standard might sense check that and give the text of the BBC press release another look...